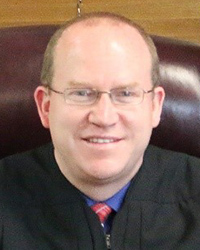 What brought you to Elko, Nevada?

Shortly after graduating from Boyd in late 2003, my wife and I married; and we were soon expecting our first child. Having grown up in a small town in southern Utah, I was drawn to the prospect of raising my own family in a smaller town. So, my wife and I decided to make the jump from "the big city" to northern Nevada. After applying for several jobs across northern and rural Nevada, I accepted a position as a Deputy Public Defender in Elko. We knew from the beginning that Elko was the right place for us. The Elko County Public Defender, the late Fred Lee, was a terrific boss and mentor. I am grateful for all I learned from him, both professionally and personally. He taught me to be a better lawyer and a better person.

Tell us about a turning point in your career.

As a fairly young attorney, an opportunity arose in Elko for me to apply for the position of Family Court Master with the 4th Judicial District Court. The position was under the supervision of District Judge Andrew J. Puccinelli, a former president of the State Bar of Nevada. I respected Judge Puccinelli very much. I served as a member of his Drug Court team while I was a Deputy Public Defender. I decided to apply, and ultimately was hired. This would begin what is now an eleven-year (and counting) stint of judicial service here in Elko County - six years as Family Court Master; and the past five years as Elko Township Justice of the Peace and City of Elko Municipal Judge.

What do you want your legacy to be?

I am proud to be a Boyd alum and very grateful to all my professors who imparted to me my understanding of the law; as well as set me on the right course in my professional career. Ultimately, I hope to be remembered as a lawyer and judge who was fair and even-handed; and who afforded respect to all those who appeared before him in the courtroom. The local bar in Elko County is one in which civility and respect prevail. I like to think I am contributing what I can to that positive atmosphere; thanks, in part, to that strong foundation built at the Boyd School of Law.