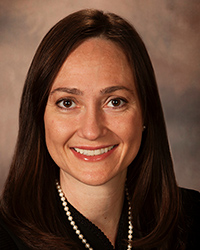 Tell me about your decision to attend law school?

As a young child, growing up here in fabulous Las Vegas, I always thought I wanted to become an accountant (a tax accountant, to be precise). While attending the business school at UNLV, in pursuit of my degree in accounting, I quickly realized my passion was in the law. (My favorite classes were in business law – I know, boring right!) After graduation, while working in the tax department of a prominent firm, I decided to follow my passion. I applied to the William S. Boyd School of Law, and was accepted. I am proud to say that I am a member of the fourth graduating class.

What is the best moment in your career so far?

While I had many rewarding moments as an attorney, I would have to say being elected as a Justice of the Peace for the Las Vegas Justice Court has been my best career moment so far. I worked hard as an attorney for nearly 13 years, gaining varied civil experience, but I wanted the opportunity to give back to our community. With my husband and families support, I made the decision to run for a judicial position. After nearly a year of hard work campaigning, I remember sitting up with my husband watching the election results. When my name scrolled across the screen as the winner, I was so happy and shocked all at the same time. The hard work had paid off; that was a very happy and humbling moment in time for me. In the months to come I prepared for my new role in the judiciary, and was honored to be sworn in as a Justice of the Peace, taking office January of 2017.