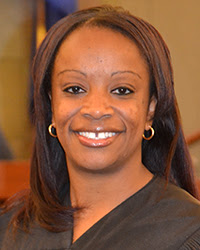 Mentoring has been a key area in which you like to give back. Why is this a priority for you?

Mentoring young law students and judging mock trial, trial advocacy, and moot court competitions have been very rewarding. Giving back to the legal community through these activities and being a role model to those who will come after me is my way of paying it forward. Being a resource for younger lawyers and hopefully helping them on their path to success is quite satisfying.
Over the years, I have participated in structured mentoring programs, through the Las Vegas Chapter of the National Bar Association, the Black Law Student Association, and Boyd Law. I have watched students that I have mentored become successful attorneys. One that I remember very vividly is Brittnie Watkins '14. I mentored Brittnie when she was a law student; and she is now an excellent lawyer and, in my opinion, is destined for greatness.
What is it about judging student competitions that is so rewarding?
Not only is it enjoyable and a great experience, but it is an enormous opportunity for me to see the future of our legal community. During the mock trial exercise, one can see these high school students demonstrate the outstanding skills that will eventually lead them to become professionals in the legal community. During the moot court and trial advocacy judging, the law students demonstrate a more mature version of trial skills as they work toward their beginnings of successful legal careers.
Tell us about your experience with Criminal Justice Day.
I have also enjoyed participating in criminal justice day through the Leadership Las Vegas program. This is often viewed as one of the best days of the session. It is so exciting to participate in the mock trial exercise and watch the Leadership Las Vegas class members take on the courtroom roles to see what this experience is really like.
How has your perspective changed since your appointment to the Court?

During this last 17 months that I have been on the bench, I have taken on a different role as a leader in the legal community. My hope is to use these new experiences to continue to serve as a role model and inspire law students and lawyers alike, and to thereby help me become a better mentor to those who will follow after me.