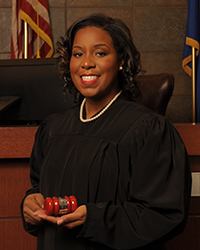 What brought you to Las Vegas?
I came to Las Vegas to attend the wonderful William S. Boyd School of Law and have never looked back. My husband and I have built a life in Las Vegas, raising our four children. Las Vegas is a great city and there is always something fun to do; from seeing a show on the Strip, hiking in Red Rock or enjoying our lovely Lake Las Vegas. Living in Las Vegas allows you to see the world without actually traveling through architectural designs and great cuisine. The Eiffel Tower is a great replica of the actual Eiffel Tower in Paris and Caesar's Palace looks like buildings in Rome. The vast options of cuisine also allow you to experience different cultures from around the world. I love living in Las Vegas and am grateful to serve my community in such a great city and State.
Do you have certain memories about law school that you want to remember?
Boyd is a really special place because of its community atmosphere and focus on giving back to the community. My fondest memories of law school are the relationships I built. The students and professors always exhibited kindness and a caring attitude. My husband and I had our first child while I attended law school and many of my classmates assisted me by taking comprehensive notes so I didn't miss anything. Boyd always felt like a family because people were always willing to work together and assist one another.
What do you enjoy in your off hours?
I love to dance, anything from salsa to line dancing or fitness dancing. A few years ago, I grew bored and got certified to be a dance fitness instructor. I am looking forward to learning new dances in the future, especially Capoeira.
How has the digital age changed the way your organizations operates?
If you've appeared in the 8th Judicial District Court within the last year, you know that the courts have confronted and risen to the challenge Covid presented. Using audiovisual technology and allowing for remote appearances, the courts have continued to conduct all types of hearings from status checks to trials. I have personally seen the benefits of attorneys having more control over their schedules with more time to work on cases. I have seen more members of the public attending court, with the ease of being able to appear from your cellphone from any location.
What are your success habits? What drives you to push through difficult times?
I often tell myself to "Just Do It". It's so easy to look at the future and be fearful of what's to come. Oftentimes, the hardest part is just getting started. Just Do It reminds me to move forward; to start despite the fears of the future. Once I get going, it's hard to stop. I also have the most awesome supportive network of family and friends. My team encourages me to do better, confronts me when I'm wrong and always lets me know that I am loved, no matter what. Having a great support system is key to being able to have the confidence to try new things, step out on new ventures and be the best version of yourself you can be. My faith in God and my loving team of family and friends have allowed me to push through and never give up.
If you had to live in another country for a year, which would you choose and why?
If I had to live in another country for one year, I would choose Italy. I absolutely love ice-cream and gelato, which tastes way better than ice-cream, originated in Italy. Italy is home to great architectural sties like the Coliseum in Rome and the famous Leaning Tower of Pisa. Italy is less than two hours by plane to Paris, a city that I enjoy as well. When I visited Italy as a rising 2L, I found the city where many or took public transportation. Living in Italy would allow me to travel more in Europe and eat a new flavor of gelato each day, while remaining physically fit from all the walking.

Any business advice you would give to someone just starting in the profession?
Be kind, be honest and be authentic. Although the law is an adversarial system, there is absolutely no reason that you can't be friends with colleagues who you regularly oppose. The practice of law, is a profession, it is not the total sum of your identity, so be friendly, extend an olive branch, be civil and I dare say make friends with opposing counsels. Be honest: with yourself, with the court, and with others. If you make a mistake, own up to it and try to fix it. Everyone is human and people will understand when you make a mistake. Be authentic- especially if you chose to practice criminal defense. People know when you're faking and they won't respect you for it, so be authentically you, whatever that looks like. There's so much beauty in diversity. The law is not cookie cutter, the client's aren't cookie cutter and the attorneys who practice the law should also not be cookie cutter.
If you could change one thing about yourself, what would that be?
I would be less critical of myself and applaud my accomplishments more. It's easier to give others grace, but it is hard to give yourself grace. So, if I could change something about myself, I would stop being my biggest critic and be my biggest fan and cheerleader.
What do you want your legacy to be?
I want to be remembered as a person who inspires others to continually dream and never lose hope. I want my legacy to be one of compassion and service.