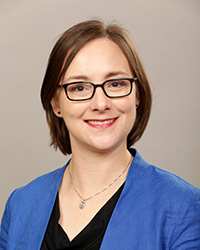 What brought you to Las Vegas (or another city)? and Tell me about your decision to attend Boyd School of Law.
I am the rare Las Vegas native! You don't meet a lot of folks who were born here, in my age range. I went to UNR for undergrad and then decided to return to Vegas for law school. Boyd was newly-accredited and I knew I wanted to practice in Nevada, so why not go to Boyd? And, It was a wonderful education, absolutely on par with anything I could've gotten out of state. I was intellectually challenged, engaged, and I made friends who are with me today.
What do you wish you would have learned at the beginning of your career?
It is okay (expected, even) to negotiate salary and benefits. I recommend the book "Women Don't Ask" to anyone and everyone. It has great exercises to help you get comfortable with negotiating. And, of course, Boyd has its own terrific negotiation classes and so on these days.
What do you enjoy in your off hours?
Dean Durand introduced me and my kids to baseball/softball. He convinced me to play on the faculty team because they needed a woman to meet the co-ed requirement. Then Elizabeth Jost, another Boyd employee, invited me to play on her team in her rec league. And then the Rebels in the Outfield, an alumni team, allowed me to play with them on a rec league. I'm terrible at playing softball, but I was counseled, early on in my career, to try something new every semester so I remember what it is like to be a beginner at something. What it is like to struggle with the terminology. What it is like to have to be in front of friends and colleagues and struggle to master a skill. That advice has stuck with me, and while I've tried all kinds of new things (cake-decorating, swing dancing, and so on), I keep coming back to softball, which is both fun and challenging.
If you could have dinner with any fictional character, who would it be and what would you have to eat?
Atticus Finch. I named my middle child after Atticus. I was re-reading To Kill a Mockingbird, and arguing with Atticus' dad about what to name him. In frustration, I threw the book down on the bed and said, "I'm just gonna name this kid Atticus!" Jason and I looked at each other said, "We love that!" I love Atticus as a father--loving but a bit of a free-range parent. I love him as a lawyer, who takes walnuts for payment. I love him as a legislator. And, of course, I love him as a lawyer. I love that we revere him, even though he lost, because he stood up for what he believed in--justice and equality. I want to be like him, and I hope my kids will be too.