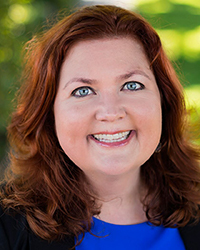 Share a brief overview of your legal career?
I have practiced law in the Puget Sound region since 2002. First in private practice, specializing in domestic relations, guardianships, and collections, then I served the public for five years as a Deputy Prosecutor in the family support division of the Kitsap County Prosecutor's Office. Since 2012, I have been a partner in a small boutique law firm in Old Town Tacoma, where I practice exclusively in family law and adoptions.
Tell me about your decision to attend Boyd School of Law.
I was really interested in being a part of something from the ground up – and also to be a little closer to my family. Boyd made it extra appealing by offering a generous scholarship. Because the law school was so new when I started (1999), my impression was that it attracted a true "Rebel" student; and, in many ways, "Rebel" professors, interested in building something new and different. It has been awesome to see how successful Boyd has become. Even living outside of Nevada, many in my legal community here in the Puget Sound region, which includes Seattle, know of Boyd and it enjoys a very respected and good reputation.
What do you wish you would have learned at the beginning of your career?
Trust your gut. Always.
What is the best moment of your career so far?
The best moments in my career have been when I can use my skills to help everyday folks. One case involved a father who absconded with his two small children. I worked on the case for over the year, with both local law enforcement and the FBI. It was the most incredible feeling when the FBI agent involved found the two children in Arizona, and they were returned to their mother. Even though I felt like I contributed such a small part in everything, the feeling of reward was tremendous.
It's really all of the little moments. Family law may not have the most complicated legal dilemmas, but the nature of the emotional aspects and the interests you are protecting makes it one of the more difficult areas of law. I love the evolution of my clients over the course of our relationship – they generally meet me when they are broken, and we work to build them back up. Hopefully it's not through litigation, but it may be. I liken it to a Lego set that's been knocked down – we just need to build something new, that may look a little different, but works better for this family. I also feel fortunate that my job affords me a lifestyle that allows me to travel with my son and be there for him at school and other activities.