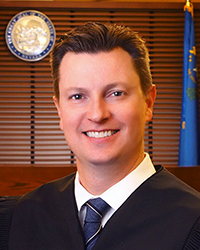 What brought you to Las Vegas?
Dean Durand and no snow. Growing up in the Salt Lake area during the 80s and 90s meant long winters with lots of snow. Remember when Lake Mead was almost full? So in looking for various potential law schools I gravitated to California and Arizona. Not until 1998, when I met Dean Durand at a law school fair day at my undergraduate school, did I even know Nevada had a law school. After touring the palatial elementary school south of campus, I knew UNLV was the place for me. After moving here and living off Maryland Parkway and Harmon for a few months, I gravitated to Henderson and remained a resident. Ultimately, I ran for City Council in Henderson and then for Justice of the Peace.
What is your favorite thing about living in Nevada?
Nevada, and in particular Clark County, has been great to me. Nevada has offered countless professional and personal opportunities that many other States do not offer. During my career, friends of mine who are lawyers in other States would routinely complaint about how tight the job markets were and how difficult it was to get into their preferred legal practice. Nevada, on the other hand, has always offered graduates of the Boyd School of law a vast array of opportunities for employment in and out of the legal field. Throughout my career, I always felt that if needed, the opportunities existed to make a move to another employer or type of legal practice. And now with so many Boyd alums, new graduates have expanding opportunities with every year that passes.
What is your elevator pitch for a recent UNLV Boyd Law Graduate?
Keep your options and mind open to what type of practice might be right for you. Most graduates end up practicing in a different area than they ever considered in law school