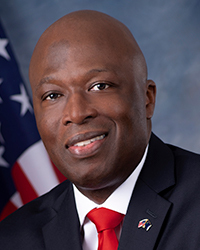 Do you have a motto and what is it?
Yes, my motto: You gotta have a plan, man! Long story short, I was the shiest of shy kids growing up, but somehow my mother convinced me to be in a church play. I probably agreed because I had only one line, "You gotta have a plan, man!"; and the trauma I experienced delivering that line in front of a crowded church audience forever etched those words into my memory. Although my father taught me the importance of setting goals, I learned the key to accomplishing those goals is having a plan.
Is there a program or accomplishment that you consider your greatest personal or professional success since beginning your career?
Since graduating, I am most proud serving as the Legislative Director for both outgoing Governor Brian Sandoval and incoming Governor Steve Sisolak - a rare occurrence for a senior staffer to transition from one administration to the next. Although the 2019 legislative session officially began earlier this year, the legislative process in the Governor's Office ramps up nearly a year before. In my role, I had the honor of managing the development of Governor Sandoval's legislative portfolio with over 100 bill proposals; and then played a key role in reshaping that portfolio to align with Governor Sisolak's legislative priorities. But the coolest part of all, besides personally witnessing Governor Sisolak sign over 600 pieces of legislation, was my distinct privilege to also sign each and every one of the 636 bills the Governor signed into law. This includes many important laws aimed at making this great State even greater for all Nevadans. #OneNevada.
Tell us about your decision to attend the UNLV William S. Boyd School of Law.
Best decision ever! I read many great things about Boyd. The most striking was the close-knit community so many described. I had no idea how true it was, but I took a gamble on Boyd. That gamble has and continues to pay off. Whether my externships with federal judges Jennifer A. Dorsey and Andrew P. Gordon; my State Bar Fellowship with Lewis Roca Rothgerber Christie; brunch with President Clinton; or my externship with Governor Sandoval, UNLV's William S. Boyd School of Law provided me with a topnotch, hands-on legal education - all while welcoming me with open arms into its incredibly tightknit community.
What is a little known fact about you?
Not many folks know that, prior to law school and prior to my teaching career, I was a movie producer. On my official IMDb page, I have two production credits: one for Uninvited Guest and another for Jacked Up (both available for streaming and occasionally appearing on networks like).