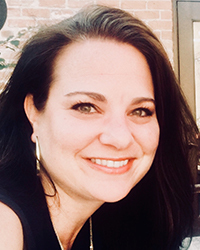 How would you describe your responsibilities as Chief of Staff?
Well, there is the formal job description - and then there is everything else that I do. Maricopa County is the country's fourth largest county and currently the fastest growing. There are five Supervisors, each representing a population of approximately 742,000 people. That is only 741,000 more than the population of my hometown, Eureka, Nevada. The county also has seven other independently-elected officials who are included in the over 2.4 billion dollar county budget. It makes for interesting dynamics when you hold the purse strings, but have no authority to make internal department decisions.
Among my primary duties, I represent the Supervisor before other board offices, elected officials, department directors, staff, other jurisdictions, the business community, and residents. While not a "practicing" attorney, I find I use my education on a constant basis - whether it be policy development, contract negotiations, mediation, land use, or working with other levels of government. Decisions require being able to look at the big picture; consider the political landscape and personalities involved; and analyze options, all in quick fashion. I would sum up my responsibilities as being a chief wrangler, interpreter, and fire extinguisher.
What do you enjoy most about your career?
My good fortune is to have a career where my goal is to make the community a better place. What I enjoy is the diversity of subjects and issues I deal with on a daily basis. It is not uncommon for me to deal with illegal lot splits, flood control, election matters, budgeting, the on-going water crisis, and general constituent issues all in the same day. My priorities change throughout the day as issues arise, which makes being proactive in planning somewhat challenging; but, I enjoy the fast pace and quick thinking. Usually, when someone calls the Supervisor's office, it is because they have a problem or complaint. I am in a position to help find a solution.
I am also fortunate that my profession dovetails nicely into my community volunteer activities. My involvement in the Urban Land Institute, Valley Leadership, and at Luke AFB facilitate civic engagement, economic development, and building relationships with my peers. One of the many things I love about the Phoenix area is that, as big as Phoenix is, it is still a very close-knit community.
Any words of advice for future Boyd Alum?
During my time at Boyd, I always felt that my future involvement with law would tend toward policy development and government service, but I would not have anticipated my current position. My advice is to not have a restrictive tunnel focus on your future, but allow yourself to explore opportunities you may not have otherwise considered.
This year, I am looking forward to activating our Boyd Alumni group in Arizona. There are a number of us; and it is a pleasure to run into not only my classmates, but also the many other Boyd Alum in the Phoenix area. My other advice is to stay in touch with your classmates - you never know when your paths will cross again.