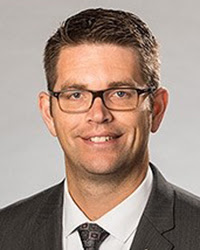 How did you first get into the legal profession?
I remember making the decision to pursue a career as a lawyer early on as an undergraduate student at Arizona State University. I don't specifically recall what triggered this decision, but it had to do with a desire to help individuals with respect to tax planning. Interestingly, I applied for ASU's accounting program knowing that I probably wouldn't pursue a career as a CPA, but rather as a way to learn as much as I could about the tax and business laws that affected small business owners with the long-term objective of going to law school.
I was very fortunate to be able to attend Boyd. I took as many tax law courses as I could from Professor Steve Johnson, which were some of my favorite classes there. I was eventually able to clerk for a small local law firm specializing in trust and estate law where I was able to observe outstanding lawyers and develop the skills and habits necessary to become a successful estate planning lawyer.
What do you enjoy in your off hours?
I love to read books and I like a variety of genres. My favorite books have been biographies or other books about U.S. history, but I also love novels. The most recent book I read was a novel by Viet Thanh Nguyen called The Sympathizer.
Most people who know me know that I also love listening to music. I am a life-long Beatles fan and am excited to see Paul McCartney live again next month when his tour comes through Phoenix.
Any business advice you would give to someone just starting in the profession?
Law students and new attorneys who aspire to a career in private practice would do well to learn as quickly as possible that it is crucial to bring new business in the door. They will certainly learn and develop important skills and bill lots of hours as work is assigned to them from their mentors and senior partners, but ultimately they will really prove their worth to their firms by becoming invaluable sources of new business. The best way to do that is simply to do good work for every client. I often tell those around me that I believe that the best marketing I can ever do is to do good work for my current clients.