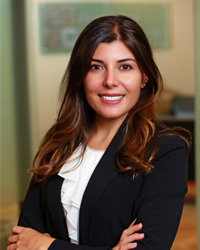 What are your success habits? What drives you to push through difficult times?
I believe it is really important to never lose sight of the "grand scheme of things." Anything can appear very dramatic when you look too closely, but it can be reduced to less significance when viewed from the perspective of your life as a whole. Also, I try not to take myself too seriously. To unwind and de-stress, I read novels and I exercise. Being physically active makes me healthier, both inside and out. In difficult times, I think about two things: (1) all I have accomplished for myself, specifically coming to a new country to earn a law degree in an entirely different language; and, (2) why I made those sacrifices.
What would be the title of your autobiography?
The Odyssey.
What is your elevator pitch for a recent Boyd Law graduate?
Make as many connections as you can, in and outside of the legal profession, as your reputation will precede you anywhere you go. Always act professionally, under all circumstances, even with individuals that would otherwise not deserve your professionalism. Set boundaries with colleagues, bosses, opposing counsels, and clients.
I couldn't make it through the day without …
My (real) espresso machine.
Advice you would give to a new colleague.
Find a position in a firm or a company that respects you not only as a professional, but also as a person. Do not be afraid to make a change; remember to look at the "grand scheme of things;" and do not act a certain way just because "everybody does it this way." If you think about it, the most successful men and women in the world drew their success from thinking and acting differently.