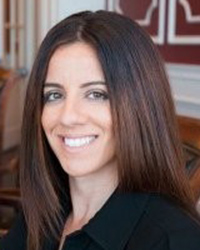 Tell me about your decision to attend UNLV Law.
I came to UNLV from Hawaii for my undergraduate studies to participate on the UNLV debate team. I immediately fell in love with both the city of Las Vegas and the university. When the time came for law school, UNLV felt right. I wanted a school that valued public service, with accessible and accomplished professors; and above all, a place that provided students with an enjoyable learning environment (no Paper Chase!). I often tell people that one of the best decisions I ever made was attending law school at Boyd. I am a proud alumna and credit my education for the lawyer I have become.
What's the best business advice you've received, and whom did it come from?
My first boss is a well-respected Las Vegas trial attorney and also was my Trial Advocacy professor at Boyd–Bruce Alverson. He once told me that our reputation is our most precious asset. So, become a person who deserves a good one. Take action that embodies the characteristics you want others to associate with you. How we handle a situation reflects not only on the type of attorney we are, but also on our firms, our clients, and on our profession in general. The Las Vegas legal community is small and tight-knit. Being recognized and respected as a strong advocate, but also as a good person, is the best thing you can do for yourself.
You're involved in a lot - business, philanthropy, social groups, and family life. How do you find balance?
I find that keeping busy makes me stronger personally and professionally. My husband Jeff is also an attorney; plus we have two young children. When I am not working or with family, you will usually find me enjoying my passion - trail running. Part of the joy in running is feeling the pain and the grit - knowing I have to dig deep to achieve success. Balancing a busy career and home life is a lot like running: both require commitment, a strong work ethic, and diligence.