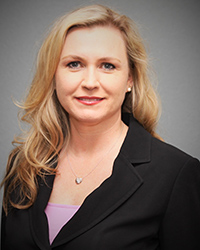 Tell me about your decision to attend Boyd School of Law.
I moved to Las Vegas from Germany in 1994, after receiving a degree from Phillips University in Marburg on a partial scholarship. However, UNLV did not accept all of the credits from the German high school and university, so I had to take some lower level classes to receive my undergraduate degree. Once I graduated in 1995 with my B.A. in Political Science, I thought I wanted to go into public service. So, I completed my Masters in Public Administration at UNLV in 1998. At the same time, I was laid off from my job as a Socio-Economic Analyst at the Yucca Mountain Project. Several of my friends had enrolled in the charter class for the law school. Since I still had not fully figured out what I wanted to do when I grew up, and they really seemed to enjoy it, I applied for the program. It was the best decision I ever made. I truly enjoy being a lawyer.
What drew you to work for the Las Vegas Metropolitan Police Department and what do you like most about your work there?
I always say that Sheriff Gillespie made me an offer that I could not refuse. I became interested in law enforcement and correctional law in 2004, when I represented a medical services provider for correctional facilities. This interest flourished further during my time at the Nevada Attorney General's office, where my main client was the Nevada Department of Corrections. In August of 2007, I joined the LVMPD and oversaw all litigation and claims against the department. I started providing some advice and counsel to the Detention Services Division due to my knowledge and interest in correctional law. I was assigned full time as Assistant General Counsel to the Detention Services Division about two years ago. It is a very challenging position; and there is always some sort of emergency that requires immediate attention. I truly can say that no day is like the other; and I learn something new every day. I do have the best job anyone can ask for.
What advice you would give someone just starting in the profession?
Regardless of where or what type of law you practice, be civil to opposing counsel and everyone else. New lawyers, including myself when I started, often have difficulty separating themselves from the case and take it personally. It is sometimes very difficult, especially when the other side "bends" the facts and personally attacks you. I have learned that you can zealously and effectively represent your client without attacking opposing counsel. Remember the saying "You catch more flies with honey." Throughout the years, I have become great friends with lawyers I met even though they were opposing counsel in a particular case.