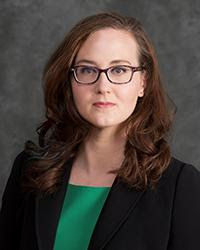 Tell us about a program or accomplishment that you consider your greatest personal or professional success since beginning your career?

I am a co-chair of the Pro Bono Committee of the American Bankruptcy Institute Task Force on Veterans and Servicemembers Affairs and am a Member of two other Committees on the Task Force. In working with my colleagues on the Pro Bono Committee, we have initiated the creation of a national clearinghouse listing organizations that provide pro bono legal services to military service members and/or veterans. Earlier this year we launched the Clearinghouse (https://veterans.abi.org/gethelp) with invitations to more than two hundred clinics, State Bar associations and/or Committees, and offices. I would encourage anyone reading this to share the link with an organization you know that offers pro bono legal services to military members and veterans, so that organization may consider opting in to be listed in the Clearinghouse. We continue to have high hopes for the Clearinghouse's expansion as we aim to help bridge the gap between a population in need of pro bono services and the many valuable service providers that exist throughout the nation.
What community nonprofits might you be associated with?
I am also a member of the Twentieth Century Club, which is a women's organization founded in Washoe County and has existed continuously since 1894. Currently I am serving on a Committee to compile a historical compendium looking back at women in Nevada over the last hundred-plus years, through their recipes. Amazingly, the women of the Twentieth Century Club first published a cookbook in 1907—you read that right, before suffrage. Our current project celebrates the Club's history and also includes contributions from currently active members. With the TCC's focus on community philanthropy, we are excited to use this project as an opportunity to remind others of the value of contributing to one's community.
What is your favorite thing about living in Nevada?
It is my home state. I have always wanted to reside in Nevada and contribute to its future. Being a graduate of the William S. Boyd Law School has been an inextricable part of that journey. And I am grateful to work for a Nevada law firm (Holley Driggs) that is as excited to be a part of this community as I am.
What is your elevator pitch for a recent Boyd Law graduate?
Consider every opportunity that comes your way. Every job, every committee, every service opportunity presents an opportunity for you to grow as a professional. You will never know the heights your career can reach unless you stay open to those possibilities.
What does success mean to you?
Making a positive impact, as meaningfully and as broadly as possible.