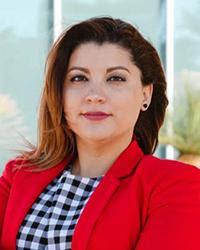 Who in your life has been instrumental to your success?
First and foremost, my mother. I would be nothing without her. My father passed away when I was very young and if it were not for her hard work and decision to come to the United States as an immigrant, I would not be here today. She instilled me that education was the key to success (Gracias Mami).
I also owe a lot to Judge Linda Marquis. She took a chance on me and gave me my first job in the legal field. After graduation, I failed the bar exam so I immediately believed doors would be closed for me. But when Judge Marquis was elected to the bench she needed a law clerk and I was lucky to be chosen as her first clerk. Throughout my time in her chambers, she reinforced the importance of always being prepared and to have confidence in yourself (Thank you Judge).
Do you have certain memories about law school that you want to remember?
From studying for finals in my house during our first year of school and struggling to stay focused because the NBA finals were happening at the same time, to attending Black & White/Barristers events, to having monthly poker nights after graduation to keep in touch, the memories I want to remember are plentiful.
I was lucky enough to be a member of the part time class of 2014. In my opinion, our class became extremely close. Some of my closest friends today are some of the people I met back in our first introductory dinner in August of 2010 and hope this continues for many years to come.
If you had to live in another country for a year, which would you choose and why?
France. My love for the French language came at an early age. I took French all four years of high school and undergraduate school. I was lucky enough to study abroad in a small town in the southeast of France when I was twenty-one but unfortunately I was only there for the summer term. Spending time in France made me fall in love with the country even more than I already did, so I truly hope to return one day and stay for a longer period of time.
Tell us about a case that you are particularly proud of.
I do not think I will ever forget my first asylum win. My clients did not speak either English or Spanish so one of the biggest hurdles in this case was making sure they trusted me to confide in me everything they went through in their home country. My clients are a same-sex couple that suffered persecution due to their sexual orientation and risked losing their lives if returned to their home country.
I believed we had a strong case and spent numerous amounts of hours preparing for their case. I did not want the fact that it was my first time handling this type of matter to affect the outcome in any way. I am happy to say we won and my clients remain safe in the United States.
If you could change one thing about yourself, what would that be?
I tend to be a pessimistic person. As I get older, I am working hard to change this trait about myself and not always think of the worst outcomes right away.