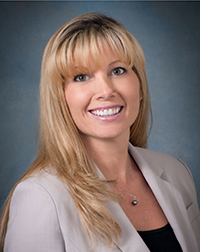 You have represented wine-makers, and beer distributors in litigation, and suppliers, wholesalers, and local retailers trying to obtain liquor licenses. How did you get into this industry?
Besides working in the industry before and during college, I am fortunate to work for great partners that practice in this industry. And because my husband has always been in the food and beverage business, it has been a natural fit. In Nevada, a supplier (like a wine-maker or beer brewer) cannot sell its products to consumers directly. Suppliers must work through a wholesaler, only wholesalers can sell to retailers, and retailers can then sell to consumers. This regulatory arrangement is known as the three-tiered system, and has many interesting facets. For example, each city and county has different laws on whether alcohol can be delivered to your home from a grocery store or restaurant, or how old you can be to work in the industry behind the scenes.
Do you have certain memories about law school that you want to share?
When I talk to potential Boyd-applicants or recruits today, I tell them about the comradery in the Boyd community. I did not think law school professors had the time (or maybe even interest) to be so vested in every student's success. I was blown away by how much they care (and still do)! What is more, your classmates become friends for life. While it is a competitive atmosphere, it was the exact opposite of the stories you hear about law school. I am so grateful I chose Boyd.
What do you enjoy in your off hours?
I have choreographed, coached, and taught dance for over 25 years. Even when I was in law school, I was traveling and choreographing competitive routines for Clemson and the University of Arizona's dance teams, for example. My heart though is always at my home studio, Western Nevada Performing Arts Center in Carson City, that I have taught at for the past 15 years. This year I have three dancers that I have trained that are members of the national championship Rebel Girls & Co. at UNLV, and hoping to add two more to the roster next year.
What is a little known fact about you?
I was the grand prize winner on Wheel of Fortune. Never challenge me to a game of Hangman.