Tuesday, October 29, 2019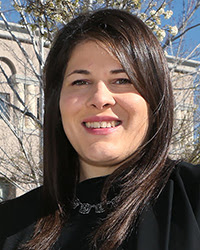 What have you been up to since graduating from Boyd?
First, I have to admit I never really knew what I wanted to be when I grew up. I share this for current and future students to let them know you can end up doing work you enjoy and find rewarding, even if you did not set out on a specific path.
Prior to graduating, I was fortunate to clerk for the Honorable Judge Elissa Cadish, Eighth Judicial District Court, Department 8 (now Nevada Supreme Court Justice Cadish). Working in her chambers, I observed that you can maintain a successful legal career while strictly adhering to ethical standards and showing respect to colleagues. After my clerkship, I practiced criminal, immigration, and family law at Reza Athari & Associates for approximately five years in Nevada and California. I am most proud of my work obtaining post-conviction relief for undocumented persons; as well working on reforms in State law in this area.
In late 2014, I began representing the Nevada Dispensary Association on a contract basis for government affairs matters. In 2015, the Board named me as the Executive Director. Ever since, I have been involved in a wide variety of activities. This ranges from coordinating the cannabis industry's legislative agenda to organizing press conferences and cannabis policy forums. I still maintain my own PLLC, with limited practice in the area of regulatory compliance.

What drew you to Nevada Dispensary Association and what do you like most about your work there?
One of the most engaging parts of working in the cannabis industry, especially as an attorney, has been the quickly evolving legal issues. These include everything from creation of a regulatory framework to challenges to statewide ballot initiatives. It is very rewarding to represent an industry governed by an extensive network of laws and to actually help change those laws and see those changes in practice. I have also enjoyed the people I have met and represented at the Nevada Dispensary Association; as well as working with many public figures and governmental agencies while representing the Association.