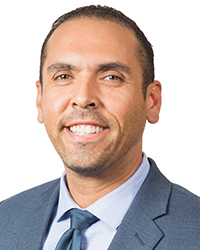 Tell us a bit about yourself.
I was born and raised in Boyle Heights—a predominantly Spanish speaking unincorporated area of East Los Angeles, California. Growing up in East Los Angeles exposed me to serious challenges such as discrimination, unemployment, poverty, and fear of the legal system. Some of these struggles impacted my family directly. Consequently, I did not go to college after high school. Instead I enlisted in the U.S. Navy. I then utilized my G.I Bill to pay for UCLA and my undergraduate studies in political science.

Why did you choose UNLV Law?
Going back to Los Angles made me realize that my community desperately needed lawyers who understood everyday struggles of the inner-city. So, I began to research law schools. I decided on Boyd after attending an open house. There, I spoke with students and professors. I immediately realized that Boyd was a community of people who cared about people. It was not just about rankings. Boyd turned out to be the best decision I could have made because I would not be where I am today without the help of Jennifer Carr, Dean Smith, and Professor Correales.

Share your news on establishing your own firm in Las Vegas and your recent achievements.
Although my goal was to return to Los Angeles to help people from the inner-city, I realized that Las Vegas has similar needs. I am one of a few Spanish-speaking attorneys in Las Vegas, compared to the multitude in California. Here, I can make an impact. For this reason, I opened the doors to the Law Offices of Rodolfo Gonzalez five years ago and now call Las Vegas home.
I recently purchased a vacant lot and am in the process of building a 2-story building for my firm. On September 27, 2018, my business celebrated the ground breaking to erect this building with over 90 people from our community consisting of politicians, students, friends, family, fellow alumni, and law school staff. My goal is that the Law Offices of Rodolfo Gonzalez will serve as a beacon for hope in the inner city; and serve as an example of what the child of immigrant parents can achieve with hard work and perseverance.