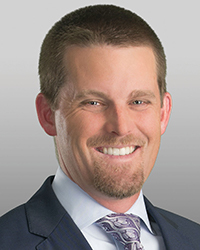 What drew you to McDonald Carano?
During on-campus interviews at Boyd, I met Andy Gabriel from McDonald Carano. Andy and I immediately connected. He recommended me for an interview to meet the rest of firm's lawyers. Because my resume was littered with references to Northern Nevada, the firm sent me a plane ticket to meet with the attorneys in the Reno office. At the end of the interview, the partners asked me when I could start in Reno for the summer clerkship. I looked at them perplexed; and told them I didn't want to work in Reno - I wanted to work in Las Vegas. Asked why I flew to Reno for the interview, I said "because you sent me a plane ticket." Fortunately, I interviewed with the Las Vegas office and met Andy Gordon, George Ogilvie, and Jeff Silvestri, and I immediately knew I wanted to work here.
What's the best business advice you have received; and from whom did it come?
Someone told me that if you want to live a comfortable life, be a lawyer; if you want to be rich, be a client.
How did you become a lawyer specializing in bankruptcy law?
I was the first Boyd summer extern in Reno, for Judge Gregg Zive, who is one finest bankruptcy judges and human beings I know. I also participated in the Boyd pro bono bankruptcy project at Nevada Legal Aid. When I started at McDonald Carano there were not many lawyers with bankruptcy experience in Las Vegas, so I was involved with almost all of the bankruptcy projects. Just prior to the great recession of 2008, we hired Kaaran Thomas, who had a national presence in the bankruptcy arena. These ingredients helped bake a terrific bankruptcy practice that I am very proud to chair on behalf of this firm.
What is your favorite thing about living in Nevada?
The intimate relationships you can develop here. Anyone who knows me can attest to the great pride I have for the State of Nevada. I went to K-12 in Carson City, college in Reno, and law school in Las Vegas. I cherish the close connections I have developed for over 38 years with the great people who live here. My children were born here, and it is where I will probably live for the rest of my life. My only regret is that I was born in Iowa, so I can't claim to be a "native Nevadan."