Friday, November 16, 2018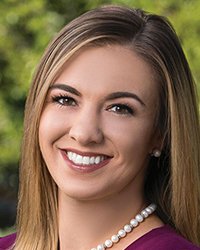 Tell us about your decision to attend the Boyd School of Law.
My decision to attend Boyd was not an easy one due to the long-standing athletic rivalry between UNLV and UNR, my alma mater. The hustle and bustle of Las Vegas was not exactly appealing to this Winnemucca-grown girl either. However, my desire to serve as an attorney in my home state, coupled with Boyd's nationally-recognized programs and growing reputation, encouraged me to put my differences aside and make the move south. Despite my initial hesitation, I was immediately captivated by the collaborative environment and the professional and brilliant professors, who undoubtedly provided me with the tools to become a successful attorney. Turns out, choosing Boyd was one of the best decisions I have ever made; and I actively encourage Northern Nevada's aspiring lawyers to choose Boyd, as well. But--just to be clear--I still bleed blue. (Go Wolf Pack!)
Share a brief overview of your career path after law school.
After a short period practicing civil litigation at a small Nevada law firm, an opportunity arose to pursue a state court clerkship position. My clerkship with the Honorable Barry L. Breslow of the Nevada Second Judicial District Court gave me the opportunity to see a wide variety of cases--everything from criminal trials and complex civil cases to judicial review of administrative decisions. Working on a tremendous range of cases helped me determine firsthand what I might (or might not) want to work on in the long term; as well as providing me hands-on experience across a broad range of topics By the time I left my clerkship, I had dabbled in nearly every area of law that a state court can address.
Now, I am fortunate to practice at Brownstein Hyatt Farber Schreck among a very dynamic and talented group of attorneys. I am excited to establish my career in a firm known for high-quality legal service and for giving back to the community.
Is there a nugget of advice you would give a recent Boyd Law graduate?
Do not be afraid to reach out to other, more knowledgeable attorneys for advice. The Boyd Law Alumni network is tight-knit, supportive, and continually growing.