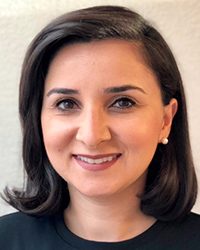 When you were a kid, what did you want to be? Why did you become an attorney?
When I was a kid I wanted to be an archeologist, fashion designer, children's story book writer, or dentist. None of these careers had anything to do with each other. In my undergrad studies at UNLV, I participated in the NEW Leadership Nevada Program. I met so many amazing female attorneys during that program and they made me realize how interesting and diverse the legal field is. The week after the program finished, I started studying for the LSAT, and the rest is history.
What brought you to Las Vegas?
I was two years old when my parents immigrated our family to Las Vegas. I remember so well where the city ended and became an endless desert. Now, those parts of Las Vegas are in the middle of the city. I love seeing how this city has grown, but as big as it has become, I am constantly reminded of how small the community is. I always run into childhood friends, or find that there is only a few degrees of separation between me and someone new that I meet. That doesn't happen in most other metropolitan cities.
Is there a nugget of advice you would give a Boyd law student?
You know those articles that give you advice on how to get a job? One of the tips (typically) is to intern or work for free for a company you want to work for. My first boss out of law school once told me that he would hear about those tips and thought it was silly that such advice was true…until he met me.
I went to law school during the recession and the job market was not good. Boyd's career services had so many good resources that I did as many legal internships, externships, and part-time jobs that I could possibly do. One of those opportunities was being an intern in UNLV's Office of General Counsel (OGC). Little did I know, that internship gave me enough insight into the OGC's office that I would later apply for, and get, a full-time position after graduation. If you plan to stay in Las Vegas after law school, keep in mind we have such a small community. Therefore, network as much as you can because you never know when one of those connections will become a mentor or a great job opportunity.