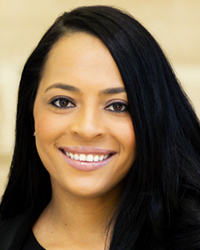 Tell me about your decision to attend Boyd School of Law.
I was in my late 20s and I was working for a sports agency representing female Olympic athletes as an agent. In my job, I witnessed clear examples of gender discrimination in the sports industry. The female athletes were paid less for sponsorships and endorsements and the industry was male dominated and male focused. I wanted to be a better advocate for these female athletes, and I wanted to fight effectively for a system that was fairer to my clients. I figured the best way to be able to do that was go to law school and get a law degree. Because I was born and raised in Las Vegas,attending Boyd School of Law was a no brainer.
Tell us about a program or accomplishment that you consider your greatest personal or professional success since beginning your career?
Being an Olympian is something I consider to be one of my greatest personal accomplishments. I worked hard and I faced insurmountable challenges, injuries, and disappointments but I never gave up and my story is one I will always share with young athletes who dream of making it to the Olympics.
Sadly, my experience as an elite gymnast also exposed me to a toxic culture where I was abused by someone I trusted. I was one of the 500+ Larry Nassar survivors and it took a great deal of courage for me to come out and tell my story. I turned my experience into an opportunity to help other survivors and I became an advocate for institutional change within USA Gymnastics and the United States Olympic and Paralympic Committee. I am proud to serve as co-chair of the special committee for over 500 Larry Nassar survivors and I am involved in ongoing efforts to advocate for sexual assault victims in all 50 states. This advocacy work is one of my greatest professional accomplishments.
What do you want your legacy to be?
I am hoping my legacy will be that I helped others. Whether I helped them through personal or professional challenges, whether my story inspired them to be an athlete or to come forward and share their story of personal struggle, I would like to be remembered as a person who helped and inspired others.