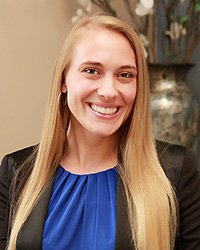 How have you managed to stay positive during this ongoing pandemic?

Luck and cognitive reframing. I was due with my first child in March. I was stressed out about it being my first, which was only amplified with the pandemic and the way it changed doctor and hospital visits. Luckily, it was my first child so I didn't have any prior knowledge to know how the process had changed. By the time I had given birth, the Stay at Home directive was in place so it allowed both me and my husband time alone with our newborn and my working from home with a child was normal to the world, not an exception. We also didn't have to worry about too many visitors or telling people we couldn't do certain activities because no one was doing anything anyway. Six months later, I am lucky my area of law has not been negatively impacted by the pandemic and my job allows me to still be with my child even while working full time.

You're involved in a lot - business, philanthropy, teaching. How do you keep everything balanced and organized?

Help, lots of help from remarkable people. I get to take pro bono cases because Brooke M. Borg, the owner of Borg Law Group, LLC, doesn't force billable requirements on me and respects the need for pro bono work. I co-founded Branded One, a nonprofit to benefit physically and mentally disabled servicemen and women, because my husband can run it and we have so many friends/volunteers putting in countless hours to guarantee its success. I teach as an adjunct professor at the College of Southern Nevada because my department chair will work with my schedule to ensure I can teach classes at times that work for me. I sit on the board of the Boyd School of Law Alumni Association because Amanda S. and Erica S. expressed the importance of giving back to the law school, so I made the time to volunteer. Without such guidance and help, none of what I do would be possible.

Recommend a favorite book.

When Breathe Becomes Air by Paul Kalanithi. It is a memoir of a neurosurgeon battling lung cancer attempting to discover what makes life worth living. It will shatter your mind and rebuild it. It has also helped me fully understand my clients. I recommend it to everyone.