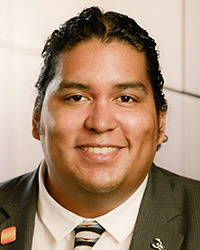 What drew you to ProBAR?
I was drawn to ProBAR because I knew I would be seen as a whole person with a life outside of the office. ProBAR provides substantial training and mentorship opportunities for their attorneys to become successful immigration litigators. But they also recognize that working in this field is tough, so they have taken steps to encourage us to have a healthy work/life balance. The office has a gym, a quiet room, and a rec room. Twice-weekly meditation sessions and twice-weekly yoga classes are offered; as well as periodic trainings on mental health issues. My personal favorite is the rec room. I have, on occasion, called a team meeting to play ping-pong and foosball with my legal support staff…all while discussing cases, of course.
What do you like most about your work there?
The support. Your first job out of law school can be intimidating because you are learning how to be a lawyer and you do not always know who to go to for help. At ProBAR, you are always supported. Our Supervising Attorneys provide mentorship and guidance to each individual and encourage us to pursue our professional interests. Our Senior Attorneys walk us through our first court appearances and also appear as co-counsel for our merits hearings. The Staff Attorneys and DOJ-Accredited Representatives have an open-door policy. If you need to ask a colleague a question, they are always willing to help. And ProBAR has an amazing legal support staff who take care of us. Each attorney or representative is assigned a paralegal and a legal assistant. My paralegal now runs my life; and my legal assistant does not make fun of me because I cannot send a fax to save my life. I can no longer function without them-- and I am okay with that.
Commencement is next month and you have been asked to offer some tips to our recent Boyd graduates. What comes to mind?
Your reputation both precedes you and follows you. The Las Vegas legal community is very small. If you develop a reputation as an ethical and responsible attorney, doors will open for you. I have heard of attorneys being offered jobs by firms that they have opposed in court because they litigated their cases zealously while maintaining a collegial relationship with opposing counsel. Conversely, if your conduct is unprofessional or unethical, you can destroy future opportunities and never be aware of it. Fortunately, you get to make your own reputation, so be scrupulous in making it a good one.