From Dean Dan - March 29, 2019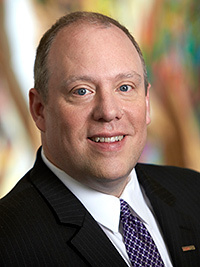 As we head into the the final weeks of the semester, the law school's event calendar is filled with many great symposia and lectures.

From April 1-2, the Thomas & Mack Moot Courtroom will host a conference, "Doing Justice: Race, Reform & New Strategies in Criminal Law." This critical conversation will bring together activists, reformers, lawyers, and scholars to discuss how to confront racial disparities and reform the criminal justice system. We are delighted to welcome Nevada Attorney General Aaron Ford who will deliver the opening keynote on April 1, and Cynthia Lee, Charles Kennedy Poe Research Professor of Law at The George Washington University Law School, who will deliver the keynote address on the evening of April 1 at The Mob Museum. You can view the complete agenda as well as register here. My thanks to Professor Addie Rolnick and Professor Frank Rudy Cooper for organizing this event.

On April 9 at 4 p.m., we will present "A Conversation with Donald F. McGahn, Former White House Counsel for President Donald Trump" as part of the Dean's Distinguished Speaker Series. Mr. McGahn was named General Counsel for the Presidential Transition Team following the election of Donald Trump, and was then named White House Counsel for the President. In that role, he was instrumental in the selection and confirmation of federal judges to the United States District Courts and the United States Courts of Appeal. He also played a central role in the nominations of Justice Neil Gorsuch and Justice Brett Kavanaugh to the United States Supreme Court. This lecture is free to all but registration is required though this link.

Our annual Robert D. Faiss Lecture on Gaming Law & Policy will welcome the former Chairman of the Nevada Gaming Control Board (NGCB) A.G. Burnett on April 18 at 4 p.m. in the Thomas & Mack Moot Courtroom. During his service as Chairman of the NGCB, Mr. Burnett was the State's primary representative before the Nevada Legislature on matters pertaining to the gaming industry and was also responsible for negotiation and oversight of compacts with sovereign tribal organizations having gaming operations in the State of Nevada. A.G. Burnett is currently a partner in the Gaming & Administrative Law Group with McDonald Carano. This event is open to all but we ask you to please RSVP here.
I would also like to congratulate Boyd alumna Jacqueline Bluth who was appointed by Governor Sisolak to the Eighth Judicial District Court.
Best,
Dan
Dean & Richard J. Morgan Professor of Law
daniel.hamilton@unlv.edu
facebook.com/DeanDanHamilton