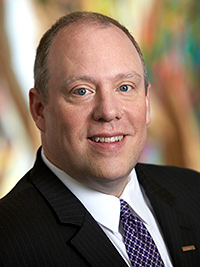 On May 11 at 10 a.m., we celebrate all of our J.D. and LL.M. graduates at the 2018 Commencement. It's one of the most exciting days here at the law school. This year, we are honored to welcome Governor Brian Sandoval as our commencement speaker.

This year's faculty remarks will be given by founding faculty member, Professor Terrill Pollman who created our top-ranked legal writing program. Student remarks will be made by full-time J.D. graduate Ryan Saldanha, part-time J.D. graduate Steve Jimenez, and LL.M. graduate R. Scott Rasmussen.
Governor Sandoval was elected the 30th Governor of Nevada in 2010 and re-elected in 2014. In 2005 he was appointed United States District Judge for the District of Nevada and prior to that was elected Attorney General of Nevada. He has previously served as chairman of the Nevada Gaming Commission and in the Nevada Legislature. His accomplishments as Governor include working to make Nevada the most veteran and military-friendly state in the nation, transforming Nevada's approach to economic development, expanding health care coverage, implementing new innovative gaming policy and leading the effort for an unprecedented investment in and modernization of Nevada's public education system. The Governor has also held several national positions during his tenure, including the chairmanships of the Western Governors Association, the Education Commission of the States and the Council of State Governments. He was selected by his peers to serve as the 2015 - 2016 Vice Chairman of the National Governors Association (NGA) and currently serves as the Chairman of the NGA.

I am also delighted to recognize our first ever LaFrance-Trimble Award recipient, which honors an outstanding student in the Intellectual Property concentration. This award was created by legendary lawyer Samuel Lionel of Fennemore Craig in honor of IGT Professor Mary LaFrance and Samuel S. Lionel Professor Marketa Trimble. Sam Lionel has been a major supporter of the IP program and law school since we opened our doors.
The ceremony will also recognize the outstanding achievements of our J.D. and LL.M. students.
Barbara Buckley Community Service Award
Recognizes outstanding commitment to community/public service
Beatriz Aguirre
James E. Rogers Outstanding Scholastic Achievement
Recognizes outstanding overall scholastic achievement
Anna J. Avery
William S. Boyd Outstanding Graduates
Recognizes scholastic achievement, overall leadership, and contribution to the law school community
Stephanie J. Glantz
William D. Nobriga
LaFrance-Trimble Award
Recognizes an outstanding graduate in the Intellectual Property Concentration
Katie Fox
Clinic Legal Education Association
Recognizes excellence and achievement in the clinical program
Seleste Anthoni Wyse
Dean's Awards
Recognizes individual contributions or accomplishments of note to the law school community
Julia Ann Barker
T. Charlotte Buys
Scott W. Cardenas
Andrew S. Clark
Kezziah Jayne Dale ne Lloret
Eric C. Duhon
Christyn Paige Foley
Alysa Grimes
Kristopher J. Kalkowski
Briana E. Martinez
Racheal Anne Curtis Ross
Alex Velto
Seleste Anthoni Wyse
Scribes, The American Society of Legal Writers
Recognizes excellence in legal writing while in law school
Anna J. Avery
Julia Ann Barker
Scott W. Cardenas
Hayley Jordan Cummings
Alex Velto
Best,
Dan
Dean & Richard J. Morgan Professor of Law
">
facebook.com/DeanDanHamilton