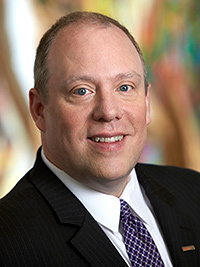 I want to recognize our annual Alumni Award winners. These graduates have gone above and beyond supporting the UNLV Boyd Law School, and I want to thank them for all they have done.
Jeremy Aguero (JD '04) has been named the UNLV Fred C. Albrecht Outstanding Alumnus of the Year, which is the first time a Boyd grad has received this university-wide honor. This is the highest award given to a UNLV alum and we are proud that Jeremy is the first Boyd winner. Jeremy is the the founder and principal of Applied Analysis, a research firm that has proven instrumental in shaping public policy in Nevada and promoting economic growth. Jeremy and Applied Analysis most recently played a central role in bringing the Oakland Raiders to Las Vegas.
Brenda Weksler (JD '02) is the winner of this year's UNLV Alumni Association Alum of the Year Award. Brenda has done exceptional work on behalf of her fellow alumni year after year, and is the past president of the UNLV Boyd School of Law Alumni Association. Brenda has served as a leader for the past 15 years in the office of the federal public defender.
Cassie R. Stratford (JD '08), Vice President of Legal Affairs and Assistant General Counsel at Boyd Gaming, has received the Alumni Distinguished Service Award, which is given to a graduate who has gone on to exceptional professional achievement through service to the legal profession, the legal community, and the School of Law. Cassie has achieved great success as a lawyer at one of the leading gaming companies in the world, and has been a dedicated supporter of the law school, including teaching in our Lawyering Process Program.
Samantha Rice Reviglio (JD '16) is our Young Alumni Award honoree. This award is given to a graduate who is fewer than five years out of law school and has made distinguished contributions to the legal community. Samantha has worked with Professor Rebecca Nathanson to bring our award-winning Kids' Court School up to Reno, and has helped expand the reach of this important community service program.
The Honorable Tierra D. Jones (JD '06) of the Eighth Judicial District Court is the recipient of the Volunteer Leadership Award, which honors a William S. Boyd School of Law graduate whose extraordinary volunteer efforts have encouraged others to support the law school through time, service, and philanthropy. Judge Jones has been a tireless and dedicated supporter of the law school, and has helped us recruit great Boyd students, and mentors students before and after graduation.
Thanks and congratulations to all. Our alumni awardees will be honored on December 1 at our 20th Anniversary Gala. If you haven't yet done so, I encourage you to purchase your tickets for an unforgettable evening celebrating Boyd Nation.
Best,
Dan
Dean & Richard J. Morgan Professor of Law
daniel.hamilton@unlv.edu
facebook.com/DeanDanHamilton