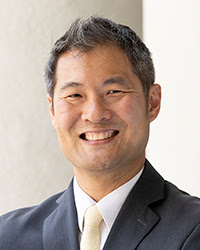 What's the most important thing you are working on right now?
Our son Austin was born this past December, so honestly parenting is the most important thing I'm working on now. On the scholarship front, Professors Cooper, Rolnick, and I just finished an introduction for the symposium edition of the Nevada Law Journal that unpacks the intersecting relationship between race, gender, and policing. I am also working on a reimagining of Chy v. Freemen, a pivotal immigration case that considered the constitutionality of California's pre-cursor version of the Page Act, for the immigration-focused edition of Feminist Judgments, as well as a book chapter on domestic violence in Asian immigrant communities.
When students ask you what they should read outside the required textbooks and other law-related books, what do you suggest?
James Baldwin is my favorite author, and recently I got a copy of his children's book "Little Man, Little Man: A Story of Childhood," to read to my son (though I realized after the fact that it is probably better once he gets a little older). Yes, it's a children's book, but it offers poignant insight into the everyday life of Black Americans which is as relevant today as it was in the 1970s. Gwendolyn Brooks' "Bronzeville Boys and Girls" is also a wonderful collection of poetry that does similar things (and is much more age appropriate for an infant) if you have little ones whom you like to read to.