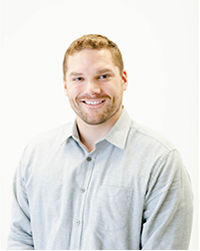 Could you tell us a bit about your professional background?
I have an agriculture background where, prior to law school, I traded grain for our family business and was selected to the NGFA (National Grain and Feed Association) Trade Rules and Arbitration Committee. I fell in love with the process of writing and updating the trade rules and talked to the lawyer who oversaw us; he told me "Don't go to law school, but if you do it will be the best thing you ever do." I took the LSAT during the wheat harvest season, and here I am!
So what brought to you to Las Vegas of all places, where we're not exactly known for our grain production?
Initially it was my wife – she wanted to go to a place where we could raise our kids in warm weather as opposed to negative 38-degree weather. One benefit that I didn't anticipate was the opportunity to attend business conferences in Las Vegas; it's a huge benefit that I didn't know would be here that I absolutely love. Professors Sternlight and Anderson have suggested all sorts of legal functions and networking opportunities that I didn't even know existed a year ago.
Speaking of children, you have three under the age of three. How's that going?
It's tiring. It's great, though – our kids love it here because there's so much to do. Last year this time they were riding in customers' harvesters; now they're visiting Seven Magic Mountains, watching pirates at the Treasure Island, and going to the Marvel Avengers Station.