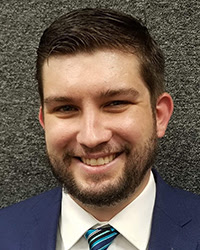 As an undergraduate at St. Mary's College of California, you majored in "Great Books." Which of the 'great books" do you hold above all others?
It is the Odyssey. I wrote my senior thesis proving Odysseus' journey home was a dream, using Life is a Dream and the Leviathan. It changed Odysseus' journey from a hero's quest to a dream full of symbolic lessons and encounters he needed to learn before he returned home from war.
You love puzzles. What kind of puzzles do you find the most fun and/or challenging?
I enjoy riddles most of all. I'm a big fan of wordplay. I also enjoy crossword puzzles. I used to create crosswords for my high school newspaper.
With which of your Boyd professors would you most like to sit down for dinner and conversation?
Has to be Professor Bret Birdsong. I took his Natural Resources in the Great Basin Field seminar class last semester and spent a week in a van with eight other students driving around Nevada seeing legal issues. He's got so many great stories about the great outdoors and his time in the Department of the Interior.
How do you envision your career path following graduation in May?
I'll be taking a semester to complete my LL.M. in Gaming Law and Regulation here at Boyd. After that I'm looking to find a position in a compliance department or legal department of a local casino.