Safe at Home
Students partner with the Legal Aid Center of Southern Nevada to come to the rescue of residents facing eviction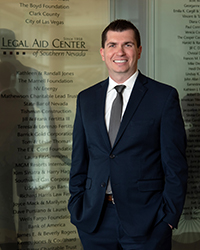 By Elizabeth Rusiecki
The Legal Aid Center of Southern Nevada sensed a tsunami barreling toward the Silver State. The federal government's pandemic eviction moratorium was slated to lapse in May, and the organization knew it would be drowning in a wave of tenant-eviction help requests.
Ryan McConnell of the center's Consumer Rights Project was among those who understood the magnitude of the impending crisis, so he sounded the alarm for help. The 2020 graduate of the UNLV William S. Boyd School of Law graduate turned to Christine Smith, who has been with the law school since its doors opened in 1998 and who serves as associate dean for public service, compliance, and administration.
Smith's quick call for student volunteers staffed a Legal Aid Center project in June and July that kept more than 250 Southern Nevada residents in their homes.
The program paired more than 25 law students with tenants facing eviction. Students committed a minimum of five volunteer hours a week to the program, with most going above and beyond that, even working evenings and weekends. Students would speak with Legal Aid Center clients over the phone, then electronically file eviction answers for tenants.
They completed 168 filings in June and another 85 in July.
"The eviction process can be very confusing," McConnell says. "The tenant answer is the first step in the process for the tenant to make sure they get their hearing and their day in court. We would not have been able to help as many tenants without the law students. There were too many tenants in need and not enough hours in the day."
Students on the eviction advocacy team earned pro bono honors hours which they will apply toward pro bono honors recognition at graduation.
"Boyd School of Law students are interested in programs like this as they love to help people, but they also get the pro bono hours," Smith says.
McConnell says the program also gave law students the opportunity to hone important attorney-client interview skills, albeit remotely. Learning how to interact with clients and ask appropriate questions is essential in the professional realm. "In practice, once you go to your internships and externships, you're typically in a cubicle or office writing memos, briefs, and motions," McConnell says. "So the law students who volunteered for this program gained valuable skills and [professional] experience."
Just as important, those students provided a valuable service. In fact, McConnell says many Southern Nevada residents are in their homes right now because of the time and effort of the student volunteers.

"Families who had been in their homes for 30 years—who never had a problem paying rent—all of a sudden had the rug pulled out from under them," McConnell says. "The law students really responded to that. They were eager and willing to help. It was really great seeing them connect with the community that way."
While this particular situation that required the assistance of UNLV Boyd students was new, the pipeline connecting students with the Legal Aid Center is not. The two entities established a relationship when the law school was founded, and Smith says that relationship remains invaluable. So much so that sometimes, as McConnell can attest, the student connection to the center extends long past graduation.
"Because of our ongoing partnership," Smith says, "the Legal Aid Center of Southern Nevada has access to law students who are already trained to continue in paid positions."