Sean K. Claggett Selected as 2010 Boyd Alumnus of the Year
Sean K. Claggett '03 has been named the 2010 William S. Boyd School of Law Alumnus of the Year, the highest and most prestigious alumni award given by the school.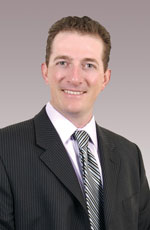 Sean is the founding attorney of Claggett & Associates, employing eight persons and focusing on personal injury, civil litigation, real estate litigation, and criminal defense. He is a graduate of Durango High School, a 1997 honors graduate of Cerro Coso Community College (Calif.), a 2000 graduate of UNLV with a B.A in political science, and a cum laude alumnus from the Boyd School of Law where he served as staff editor on the Nevada Law Journal and a member of the Moot Court team, where he won first place in intraschool competition.
While at CCCC, Sean was the first baseball player to be named academic athlete of the year. At Boyd he clerked first for Ryan, Marks, Johnson & Todd doing insurance defense and later practiced criminal defense for Michael Cristalli & Associates, where he accepted a position after earning his J.D. before founding his own firm.
Sean is the Vice President of the Boyd School of Law Alumni Association Board and has been a member since 2009. While serving on the board, Sean and members of his firm have been active in hosting Dinner with a Rebel, a social event providing Boyd students opportunities to learn about the practice of law in an informal setting. He was also the primary founder of the inaugural Rebel Rendezvous, an annual CLE retreat in Lake Tahoe.
Sean said his wife Louella and he "share a core belief that as Las Vegas residents, it is their obligation to make our community a better place by giving back with time and money," a value reflected in their charitable giving to organizations such as the Challenged Athletes Foundation, Three Square, March of Dimes, HELP of Southern Nevada, and Nevada Child Seekers, just to name a few. Additionally, Sean's commitment to the community was recognized when he was placed on the Legal Aid Center of Southern Nevada's 2008 Attorney Honor Role of Volunteers recognized for performing bono hours.
The award will be presented at a special VIP reception prior to the annual UNLV Alumni Association Homecoming Dinner on November 10, 2010.