Astasia Lucas earns the Patrick Chapin Book Award in Dispute Resolution
Congratulations to Astasia Lucas ('20), the inaugural recipient of the Patrick Chapin Book Award in Dispute Resolution at the UNLV Boyd School of Law. Patrick N. Chapin, an attorney, mediator, arbitrator, and adjunct professor at Boyd, designed this Book Award in Dispute Resolution to be awarded once a year to a current Boyd student with a demonstrated interest in, and aptitude for, dispute resolution.    
We are enormously grateful to Mr. Chapin for his generous support of Boyd students, the Saltman Center for Conflict Resolution, and our Dispute Resolution program. 
To learn more about Ms. Lucas...
---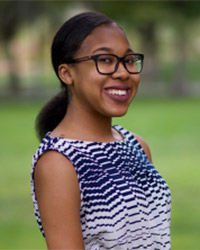 Astasia Lucas
Prior to starting law school, I worked at a law firm that handled different practice areas of law. From this experience, I saw the important role alternative dispute resolution (ADR) plays throughout a case. Thus, when I became a law student at Boyd Law School and saw that Boyd had a dispute resolution concentration program through the Saltman Center for Conflict Resolution, I knew it was something that I had to participate in, as it would be helpful to me not only in my career as a legal professional but also in my personal life. In completing Boyd's dispute resolution concentration, I took courses that allowed me to develop my ADR skills, including but not limited to, Mediation, Negotiations, and Psychology & Lawyering. Further, as a 2L, I was also given the opportunity to attend the American Bar Association's Dispute Resolution Spring Conference, where I further developed my dispute resolution skills and met other legal professionals who shared the same interest in dispute resolution as me. In my legal career, I plan to practice family law, personal injury, and criminal defense. ADR skills will be especially beneficial to me in each area of law, for instance, in resolving a divorce or custody dispute, settling a negligent car accident claim, or negotiating a plea deal between the defendant and the prosecutor.