Friday, November 15, 2019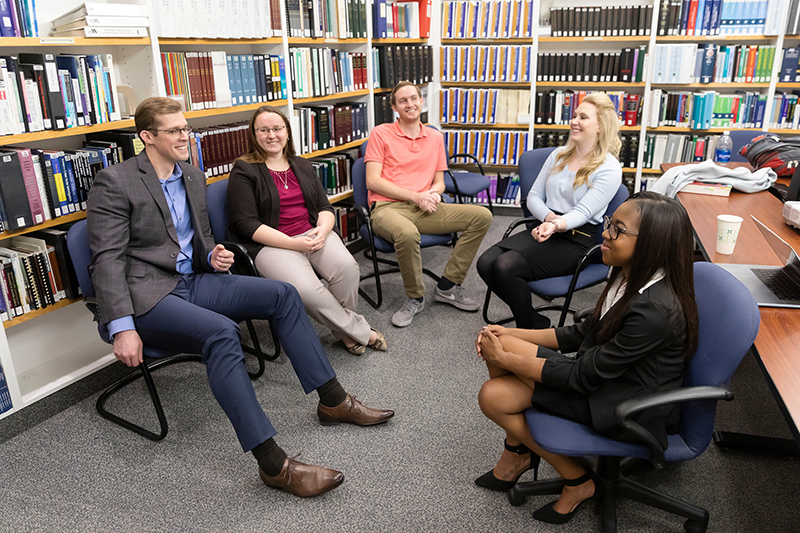 By the time Robert Anders walked into his first mediation, the UNLV William S. Boyd School of Law student had a pretty firm grasp on his role and responsibilities as a co-mediator: Facilitate the conversation between the disputing parties, provide any necessary legal information, and help the parties work toward a mutually agreeable resolution—all the while remaining impartial as a third-party observer.
Anders felt prepared because he had completed an intensive, 40-hour mediation training program that's required of all Boyd Law students who are accepted into the school's Mediation Clinic. But prior to attending that weeklong training session, Anders viewed the role of mediator through a slightly different prism.
"I thought, 'We're going to be the problem-solvers and make everything happen!'" he says. "And that's just not how you can go about it. Your job as a mediator is not to solve anything; it's to help the two parties solve it if they want to solve it. So you're there to help people get through the legal process, like a divorce, but it's more of a conversation."
Anders is one of six 3L Boyd Law students working this semester as mediators in the Mediation Clinic, which offers free services to the public. As part of the six-credit, semester-long course, students work roughly 15-20 hours a week mediating divorce, custody, and child-dependency cases in Clark County Family Court, as well as prison inmate claims against the Nevada Department of Corrections in U.S. District Court of Nevada.
Under the supervision of Lydia Nussbaum, a Boyd Law Professor who directs the Mediation Clinic, and Jeanette "Jae" Barrick, a Graduate Fellow with the Saltman Center for Conflict Resolution, students mediate cases in pairs. Once a case is assigned, the two student mediators review it, contact the involved parties, oversee the mediation, then reflect with Nussbaum or Barrick on what went right or wrong. Except in instances when questions arise that require Nussbaum or Barrick to jump in and offer a legally artful answer, the students run the mediation from start to finish.
"A lot of the clients we work with don't have attorneys; they're self-represented," says 3L student Holly Berdan. "So even though we don't provide them any legal advice, we're able to at least give them some legal information, help make the process a little less scary, and put them in charge of the outcome rather than having to go before a judge."
Adds fellow 3L student James Puccinelli: "It was a little overwhelming at first. But at the end of the day you learn that it's just you talking with two people who are in a dispute and trying to look for some common ground and see if there's a way to resolve it."
Besides filling an important community need, the Mediation Clinic teaches students the nuances of mediation and provides them with hands-on, real-world experience in a discipline that has rapidly become a preferred dispute-solving method. After all, given that fewer and fewer cases are advancing to trial, most attorneys will eventually find themselves in a mediation setting, which is usually much less contentious than when adversaries oppose each other in a courtroom.
"I was drawn to the clinic because mediation fits better with my personality—I'm more of a peacemaker by nature," says 3L student Katrina Brandhagen. "Plus, I like that mediation allows people to think creatively rather than just putting them in these legal boxes like, 'Here's your problem; this is going to be your solution.'"
Adds fellow 3L student Astasia Lucas: "Also, it's applicable to different areas of law. So even if you do want to go into practice, a lot of the skills you learned working as a mediator will translate."
Another important lesson that student mediators quickly learn: Not every case ends with a resolution—but that doesn't mean the mediation session was a failure. "There's a lot of value to mediation even if you don't get all the issues completely resolved," Berdan says. "Maybe the couple worked through some emotional components that they needed to work through so that they could learn to work together as parents and ex-spouses going forward. There's value outside of a complete resolution."
Whether or not Mediation Clinic students gravitate toward careers that revolve around mediation, participating in the 13-week experience often leaves a profound impression.
"It's very engaging," Anders says. "It's not like you're writing motions; you're sitting down and talking with these people—sometimes they're mad at each other, sometimes they're not—and you're in it with them.
"I've worked summer jobs at law firms, and this different than anything I've ever done."
Stuck in Neutral
One of the first things Mediation Clinic students learn during a weeklong pre-semester training session is the importance of maintaining a neutral disposition as a third-party mediator. But just because impartiality is required of mediators doesn't mean it's easy in practice. In fact, Mediation Clinic students acknowledge that it's the toughest part of the job:
Holly Berdan: "I don't let it show, but it's hard when you have one domineering personality, especially in a divorce dispute. You think about if you were advocating for the less talkative person all the things you would tell them and coach them to say. When in reality, sometimes they just want to get it over with and it's easier to just let the other person have the house and the dog or whatever. So in those moments when one party is really overbearing and I think they're taking advantage of the other party, I've learned I can step back, be neutral, and still be effective."
Katrina Brandhagen: "I've also learned to pull back. I tend to be very solution-driven—I would like to be able to suggest things that I think could work for one party or the other—so learning to pull back and let it be a party-driven process has been good for me."
Astasia Lucas: "When you're an attorney representing a client, your job is to fight for your client. But in mediation, you're not advocating for a one party or the other. You have to be neutral."
Robert Anders: "In the Mediation Essentials training classes, they really hammer home the point [about remaining neutral]. If I hadn't taken those classes, I feel I would've been much more partial and be tempted to say something like, 'That's a pretty reasonable offer; you really should consider taking this!' But the reality is you can't do that."