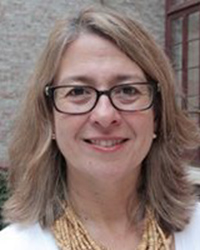 The Thomas & Mack Moot Court was the site of another intriguing Saltman Center lecture in October, this one presented by Mary Roldán, a professor of Latin American History at the Graduate Center at The City University of New York and the Dorothy Epstein Chair in Latin American History at Hunter College.
Roldán's talk, titled War and Peace in Columbia: Conflict Reconciliation in a Historical Perspective, explored the complex history of Colombia's 50-year civil war—a conflict entangling guerrilla groups, parliamentary groups, government forces, and civilians—and the process leading up to the historic signing of a Colombian Peace Agreement in 2016. However, as Roldán emphasized in her talk, the primary issues underlying the protracted conflict remain unresolved, and considerable work needs to be done to reach the goals of reparation, reconciliation, and justice embodied in the Peace Accords.
Watch the video of Roldán's lecture and other Saltman Center-sponsored presentations by visiting the webcasts page on our website. For upcoming lectures and events, check out our events page.