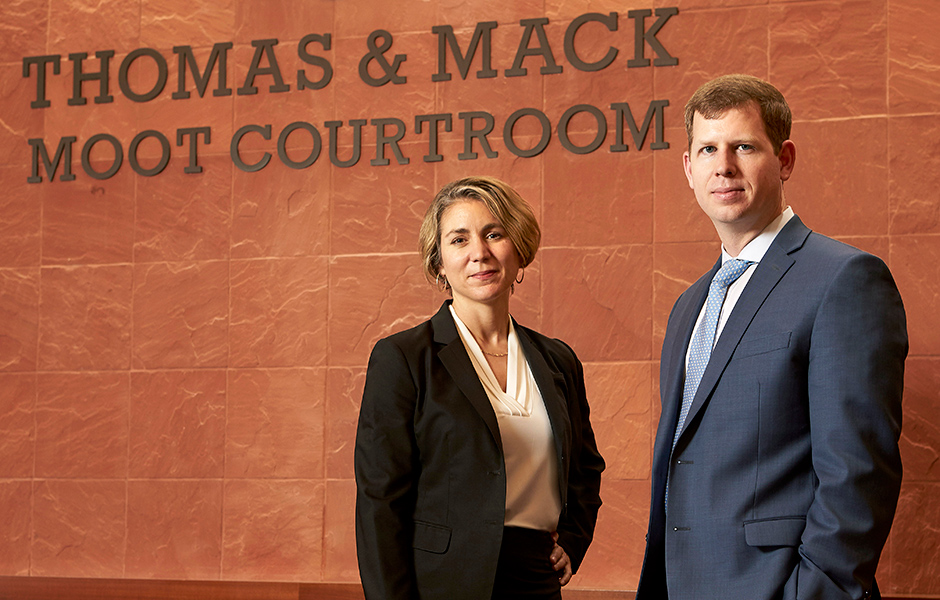 A big reason why the Saltman Center is recognized as one of the top dispute resolution programs in the world is the strength of its faculty. This year, that faculty gained even more muscle with the addition of Eve Hanan and Benjamin Edwards, two longtime professors and attorneys whose unique skill sets and new clinics are certain to enrich the student experience at the UNLV William S. Boyd School of Law.
A former public defender who has a deep passion for restorative juvenile justice, Hanan arrived in Las Vegas from the University of Baltimore School of Law, where she taught in the Juvenile Justice Project and the Mediation Clinic for Families. Like Hanan, Edwards has worked as both a professor and litigator, with an emphasis on business and securities law, corporate governance, arbitration and consumer protection. Most recently, he taught at the Barry University Dwayne O. Andreas School of Law in Orlando, Florida, and at Michigan State University College of Law, and once represented clients impacted by the Bernie Madoff Ponzi scheme. Edwards is also an arbitrator with the Financial Industry Regulation Authority (FINRA).
While their legal backgrounds are dissimilar—Hanan has spent her career in criminal law; Edwards in business law—they share a common purpose: to add to the Saltman Center's stellar reputation and help Boyd students gain much-needed dispute resolution knowledge and experience in two key areas of law. In addition to teaching classes at Boyd, Hanan is spearheading the new Juvenile Justice Clinic, while Edwards is developing a new clinic that will focus on business and securities issues.
Both clinics will fall under the Saltman Center umbrella and train students on the nuances of conflict resolution in criminal and business matters. In addition to classroom instruction, students will gain real-world experience working on actual cases, either directly or observationally.
"We are hoping to support our state regulators in the work they do to protect investors in Nevada," Edwards says of his clinic. "We are also hoping to help ordinary investors who have been wronged by bad financial advice. The idea is we want to take a few cases every year and provide high-level assistance to those clients, and use those cases to train students about securities arbitration and lawyering in general."
Edwards says his clinic will use negotiation and mediation methods to help clients resolve their cases. If those techniques fail, the next step will be arbitration, meaning students in his clinic will get a firsthand glimpse at three ADR strategies in action.
"They're excellent learning opportunities, because the matters are complex—and sometimes possibly even almost too complex—for most law students to handle," he says. "But that complexity is itself very useful for teaching and developing skills."
Hanan's Juvenile Justice Clinic will focus on defense representation, and will introduce students to restorative justice and mediation as increasingly vital aspects of conflict resolution in various phases of criminal and juvenile cases. Hanan says she is still considering two different models and is confident whichever one she chooses will provide students with an understanding of the important role alternative dispute resolution and mediation can play in criminal law.
"It's really important for all litigators to have a nuanced understanding of alternative dispute resolution, in whatever context," Hanan says. "In criminal law, often all that defense attorneys know is the plea-bargaining process, and that process more often than not does not feel like a true negotiation for the defense. It feels like a take it or leave it deal.
"I'm excited about expanding the possibilities of alternative dispute resolution for criminal cases for future defense attorneys and prosecutors."
Edwards and Hanan join a cast of colleagues whose tireless work has led to the Saltman Center being ranked as the ninth best dispute resolution program in the nation, per U.S. News & World Report. Led by Saltman Center Director Jean Sternlight and Associate Director Lydia Nussbaum (who is also Director of the Mediation Clinic), additional full-time faculty are professors Thomas Main (civil procedure, conflicts of law, transnational litigation); Terrill Pollman (legal writing); Jeffrey Stempel (civil procedure, legal ethics, insurance, ADR); Appellate Clinic Director Anne Traum (sentencing, habeas corpus, criminal law and procedure, appellate law, federal courts); and Marketa Trimble (intellectual property).
"I'm very happy to be in Nevada, and very proud of UNLV and the Saltman Center," Edwards says. "It is a wonderful institution, and it plays an important role in shaping the law in the state and developing the next generation of lawyers who will practice in Nevada and around the world. I'm glad to be part of the team."
Adds Hanan: "The Saltman Center is nationally known as being at the forefront of dispute resolution development, both academically and in terms of preparing students to practice alternative dispute resolution. ... Partnering with the Saltman Center will give my students a comprehensive and holistic understanding of how ADR can help in different phases of juvenile and criminal justice."