Welcome to the UNLV William S. Boyd School of Law website, where you can learn more about our fine law school and what we have to offer.
Boyd School of Law is an exciting environment for legal education in a vibrant city that has embraced our law school. Here, you'll find a supportive community where your success matters to the faculty, staff, and your classmates.
Boyd is at the forefront of innovation in legal education, and we are committed to graduating lawyers who are well-prepared for the practice of law. Our faculty has integrated a strong instruction in skills and professionalism into its rigorous legal education program. Various parts of our educational program--the Lawyering Process courses in legal research, writing, and analysis; the Saltman Center for Conflict Resolution; the Thomas & Mack Legal Clinic; and our externship, simulation, service learning, and community service opportunities--help our students make the important transition between understanding pure legal theory and applying that theory to solve their clients' problems. We want our students to understand legal practice as a unique combination of theory, analytical ability, common sense, judgment, creativity, and ethics. We know that lawyers have great responsibility, as professionals with a privileged position in the community and as officers of the courts, to work to improve their communities.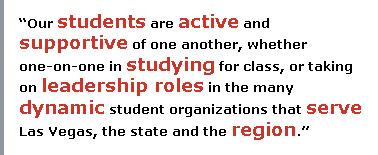 Boyd is a close-knit community of faculty, students, staff and alumni dedicated to providing an excellent legal education. Our nationally recognized faculty is productive and accomplished. Here at Boyd you will learn from people who are leaders in their respective fields. Our students are active and supportive of one another, whether one-on-one in studying for class, or taking on leadership roles in the many dynamic student organizations that serve Las Vegas, the state and the region. Our professional staff is committed to helping our students excel during law school, and after graduation when our students become our alumni. Boyd graduates are leaders of the bar and remain connected to the law school and its students. Together, we're developing conscientious, skilled, and engaged lawyers who go on to work in private practice, in government, or in public interest law.
We're glad that you're considering us as a place to begin your legal career, and we look forward to hearing from you.
Daniel W. Hamilton
Dean and Richard J. Morgan Professor of Law