Health Care Law And Ethics - 9th Edition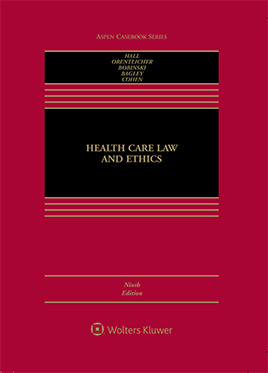 Significant New Developments
COVID-19 and Public Health Law. Updates are now available on COVID-19 and public health law as a supplement for Health Care Law and Ethics (9th ed. 2018) and Bioethics and Public Health Law (4th ed. 2018). Access the COVID-19 and Public Health Law supplement.
Health Care Financing and Reform. Updates for the American Rescue Plan, the Supreme Court's latest ACA decision in California v. Texas, and other important developments in 2021 are included on the webpage in Chapters 9.A.2, 9.A.3-4, 9.B.2, and 9.E.1 (and in Chapters 3.A.2, 3.A.3-4, 3.B.2, and 3.E.1 on the webpage for the Health Care Finance and Regulation split). Access the Health Care Financing and Reform supplement with all of the updates.
End-of-Life Decisions. In 2021, New Mexico became the most recent state to legalize aid in dying with its Elizabeth Whitefield End-of-Life Options Act. Notably, New Mexico allows nurse practitioners or physician assistants to write the prescription for the aid-in-dying medication, and the waiting time is 48 hours instead of 15 days. In 2019, Maine and New Jersey passed their Death with Dignity Act and Aid in Dying for the Terminally Ill Act. In 2018, Hawai'i enacted its Our Care, Our Choice Act.