The 2021 Beecroft Lecture with Professor Martha Minow

The UNLV William S. Boyd School of Law 
&
The Saltman Center for Conflict Resolution
2021 Memorial Beecroft Lecture:
Restorative Justice and Anti-Racism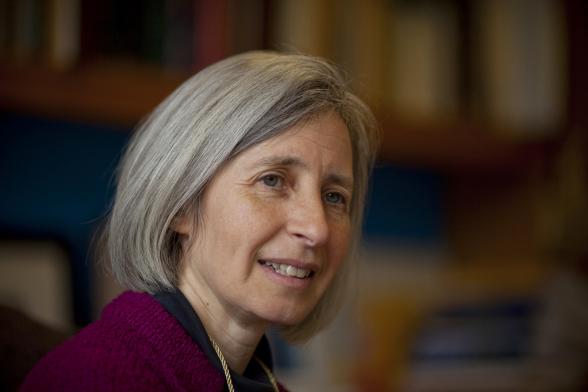 Professor Martha Minow 
300th Anniversary University Professor and 
former Dean of the Law School
Harvard University
Click here to view the lecture.
Monday, March 8, 2021
5:30 PM - 7:00 PM
via Zoom
Approved for 1.5 CLE Credits
This event is free and open to the public, but registration is required.
Registration is now closed.
Registration will be closing at 4pm (Pacific time) on Monday, March 8, 2021
Description
Professor Martha Minow is a leading expert in human rights, transitional justice, and advocacy for members of racial and religious minorities and for women, children, and persons with disabilities. Professor Minow will discuss what role restorative justice work can play in combating racial injustice.  She will further explore how restorative justice practices change when embracing anti-racist work and what are the challenges and promises of joining anti-racism and restorative justice.
Presenter
Professor Martha Minow, 300th Anniversary University Professor, has taught at Harvard Law School since 1981 and was Dean of the Law School between 2009-2017.  Her courses include civil procedure, constitutional law, fairness and privacy, family law, international criminal justice, jurisprudence, law and education, nonprofit organizations, and the public law workshop. She is the author of many books and scholarly articles and has a long record of service, including serving on the Center for Strategic and International Studies Commission on Countering Violent Extremism and on the Independent International Commission Kosovo. She helped to launch Imagine Co-existence, a program of the U.N. High Commissioner for Refugees, to promote peaceful development in post-conflict societies. Among her many awards and honors are the Gold Medal for Outstanding Contribution to Public Discourse, awarded by the College Historical Society of Trinity College, Dublin, in recognition of efforts to promote discourse and intellectualism on a world stage; the Holocaust Center Award; and the Sacks-Freund Teaching Award, awarded by the Harvard Law School graduating class.
Agenda
5:30 – 5:40         Welcome and introductions
5:40 –  6:20        Program
6:20 – 7:00         Questions and Answers
About the Beecroft Lecture Series 
The Beecroft Lecture Series was established in honor of the late Chris Beecroft Jr., a 1971 UNLV graduate and commissioner of Alternative Dispute Resolution for the Clark County District Court. Following Beecroft's passing in December 2016, the ADR section of the State Bar of Nevada worked quickly to launch the Chris Beecroft Jr. Fund, which helps to sponsor the lecture series at the Saltman Center.
Past Beecroft Lectures include:
2020: "Hiding Harassment," Professor Pat Chew, Judge J. Quint Salmon & Anne Salmon Chaired Professor, University of Pittsburgh School of Law
2019: "Behavioral Ethics and Legal Negotiation," Professor Russell Korobkin, Vice Dean for Graduate and Professional Education and Richard C. Maxwell Professor of Law at UCLA
2018: "Gender and Negotiation:  What About the Guys," Professor Andrea Schneider, Marquette University Law School

In Memory of Chris Beecroft, Jr.
Chris Beecroft, Jr. was born in St. Paul, Minnesota. He moved to Nevada and received his undergraduate degree from UNLV in 1971, the first recipient of the Nevada Centennial Scholarship Award, which is given to the graduating senior holding the highest four-year scholastic record. He then earned his law degree from McGeorge School of Law in 1974. Chris became a member of the State Bar of Nevada and worked in private law practice for over twenty-five years. Chris also was a president of the UNLV Alumni Association and served on the Alumni Board of Directors.
In 2000, Chris joined the Office of Alternative Dispute Resolution and became its ADR Commissioner in 2001. He was tasked with developing and monitoring a collection of court- connected, alternative dispute resolution programs. These programs provided litigants an opportunity to resolve their disputes without having to go to a full trial. Shortly after becoming the ADR Commissioner, he began the Eighth Judicial District Court's Short Trial Program. This unique program went on to win an Achievement Award from the National Association of Counties in 2004 and a better government award from the Pioneer Institute for Public Policy Research in 2008. In 2008, he was appointed Family Court Discovery Commissioner and in 2012 he became the Discovery Commissioner for additional departments within the Eighth Judicial District Court.
Chris passed away on December 26, 2016 at the age of 67. He is survived by his wife of 46 years, Christine, their children Melissa and Jonathan, along with other members of his extended family. His family lovingly remembers his passion for cooking, traveling, and spending time on his boat ("On The C's"). He was known to say, "Don't just watch the boats floating by, be on your boat floating by."

March 8, 2021
4:30 PM - 6:00 PM