CLE-2023 Memorial Beecroft Lecture

The UNLV William S. Boyd School of Law 
&
The Saltman Center for Conflict Resolution
2023 Memorial Beecroft Lecture:  Truth. Regardless of Reconciliation?
Professor Michael Moffitt
Philip H. Knight Chair
University of Oregon, School of Law & Honors College

Bobbie Conner
Director of Tamástslikt (Tah-MAHST-slickt) Cultural Institute,
the tribally-owned museum on the Umatilla Reservation
near Pendleton, Oregon
     
Tuesday, February 21, 2023
5:30 PM – 7:00 PM (Pacific Time)
Thomas & Mack Moot Court Facility/Virtual
Approved for 1.5 Nevada CLE Credits
This event is free and open to the public, but registration is required.
Registration will be closing on Tuesday, February 21 at 9 a.m.
Description
On June 3, 1850, five Cayuse Indians were executed for the killing of missionary Marcus Whitman and several other settlers, even though they almost certainly were not responsible. Their burial locations remain unknown, preventing repatriation, reconciliation, or whatever other steps might be appropriate today. History presents no shortage of injustices. Truth and Reconciliation Commissions present opportunities in some of those contexts, but the fit is imperfect (at best) in others. What does the ongoing search for the burial locations of the Cayuse Five look like today, and what generalizable questions and perspectives might that search offer to those engaged in various forms of conflict resolution?
Presenters
Professor Michael Moffitt holds the Philip H. Knight Chair in Law at the University of Oregon, where he also teaches as faculty-in-residence at the Clark Honors College. Professor Moffitt previously served for six years as the Dean of the Law School at Oregon and for two years as the Roger D. Fisher Visiting Professor at Harvard Law School. Immediately after law school, he served as law clerk to United States District Judge Ann Aldrich.  Professor Moffitt spent several years as a consultant with Conflict Management Group, designing and delivering mediation services and negotiation workshops for public and private sector clients in two dozen countries. His clients have ranged from senior judges to tribal leaders, from unionized prison guards to corporate executives, from school boards to diplomatic academy trainees. 

Professor Moffitt has published more than two dozen scholarly articles on mediation, negotiation, and civil procedure. He co-edited The Handbook of Dispute Resolution, an award-winning compilation of 31 original chapters by leading scholars and practitioners in the field. He also co-authored the innovative, student-focused book, Dispute Resolution: Examples & Explanations. His most recent article, Settlement Malpractice, published in the University of Chicago Law Review, won the prize for best article of the year by both the Association of American Law Schools Section on Professional Responsibility and the Section on Dispute Resolution. He also received the Dispute Resolution Advancement Award from the Hugh L. Carey Center for Dispute Resolution at St. John's University.  A graduate of Marietta College and Harvard Law School, Moffitt is an award-winning teacher, a nationally acclaimed scholar, a devoted but mediocre snowboarder, an aggressive tennis player, and the happily exhausted parent of two children in college.
Bobbie Conner, is the director of Tamástslikt  (Tah-MAHST-slickt) Cultural Institute, the 45,000 square foot tribally-owned museum on the Umatilla Reservation near Pendleton, Oregon, which opened in 1998.  The Institute serves three goals:  to accurately present the Cayuse, Umatilla, and Walla Walla  peoples' history, to perpetuate knowledge of their history and culture, and to contribute to the Tribal economy.
Bobbie is Cayuse, Umatilla and Nez Perce, is enrolled at the Confederated Tribes of Umatilla, and is a graduate of Pendleton High School, the University of Oregon, and Willamette University's Atkinson Graduate School of Management.
She co-authored a chapter in As Days Go By (2006), the Tribes' history book; penned a chapter in Lewis and Clark through Indian Eyes (2006, edited by Alvin Josephy); authored an introduction for Pendleton Round-Up at 100 (2009); wrote the introduction to the Treaty Edition of The Cayuse Indians Imperial Tribesmen of Old Oregon; and was an editor and contributor to Cáw Pawá Láakni, They Are Not Forgotten, the Cayuse, Umatilla and Walla Walla native place names atlas published in October 2015.  The Tribes' atlas project was awarded High Honors by the Harvard Honoring Nations Program in October 2016.
She serves on the Oregon Historical Society Board of Trustees and the Ecotrust, Oregon Community Foundation, and Nixyáawii Community Financial Services Boards of Directors. 
She chaired the Board of Trustees for the National Museum of the American Indian for two years during service from 2008 to 2014 and served on the Board of Directors for the American Alliance of Museums simultaneously.
 
Agenda
 
| | |
| --- | --- |
| 5:30 - 5:40 | Welcome and introductions |
| 5:40 - 6:30 | Program |
| 6:30 - 6:45 | Questions and Answers |
| 6:45 - 7:30 | A reception sponsored by the State Bar of Nevada Alternative Dispute Resolution Section |
About the Beecroft Lecture Series 
The Beecroft Lecture Series was established in honor of the late Chris Beecroft Jr., a 1971 UNLV graduate and commissioner of Alternative Dispute Resolution for the Clark County District Court. Following Beecroft's passing in December 2016, the ADR section of the State Bar of Nevada worked quickly to launch the Chris Beecroft Jr. Fund, which helps to sponsor the lecture series at the Saltman Center.
Past Beecroft Lectures include:
2022: Civil Public Discourse: Some Lessons from Psychology, Professor Jennifer Kirkpatrick Robbennolt, Associate Dean for Research and Alice Curtis Campbell Professor of Law, Professor of Psychology, and Co-Director of the Illinois Program on Law, Behavior and Social Science, University of Illinois Urbana-Champaign
2021: Restorative Justice and Anti-Racism, Professor Martha Minow, 300th Anniversary University Professor and former Dean of the Law School Harvard University
2020: Hiding Harassment, Professor Pat Chew, Judge J. Quint Salmon & Anne Salmon Chaired Professor, University of Pittsburgh School of Law

2019: Behavioral Ethics and Legal Negotiation, Professor Russell Korobkin, Vice Dean for Graduate and Professional Education and Richard C. Maxwell Professor of Law at UCLA
2018: Gender and Negotiation: What About the Guys, Professor Andrea Schneider, Marquette University Law School
In Memory of Chris Beecroft, Jr.
Chris Beecroft, Jr. was born in St. Paul, Minnesota. He moved to Nevada and received his undergraduate degree from UNLV in 1971, the first recipient of the Nevada Centennial Scholarship Award, which is given to the graduating senior holding the highest four-year scholastic record. He then earned his law degree from McGeorge School of Law in 1974. Chris became a member of the State Bar of Nevada and worked in private law practice for over twenty-five years. Chris also was a president of the UNLV Alumni Association and served on the Alumni Board of Directors.
In 2000, Chris joined the Office of Alternative Dispute Resolution and became its ADR Commissioner in 2001. He was tasked with developing and monitoring a collection of court- connected, alternative dispute resolution programs. These programs provided litigants an opportunity to resolve their disputes without having to go to a full trial. Shortly after becoming the ADR Commissioner, he began the Eighth Judicial District Court's Short Trial Program. This unique program went on to win an Achievement Award from the National Association of Counties in 2004 and a better government award from the Pioneer Institute for Public Policy Research in 2008. In 2008, he was appointed Family Court Discovery Commissioner and in 2012 he became the Discovery Commissioner for additional departments within the Eighth Judicial District Court.
Chris passed away on December 26, 2016 at the age of 67. He is survived by his wife of 46 years, Christine, their children Melissa and Jonathan, along with other members of his extended family. His family lovingly remembers his passion for cooking, traveling, and spending time on his boat ("On The C's"). He was known to say, "Don't just watch the boats floating by, be on your boat floating by."
 
Thank you for your interest in the Saltman Center for Conflict Resolution and the Memorial Beecroft Lecture.  You can help us continue our work by making a donation here.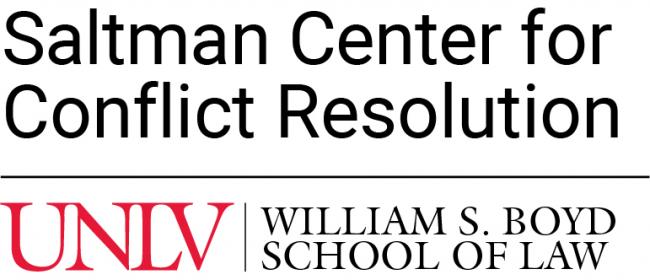 February 21, 2023
4:30 PM - 6:30 PM
BSL Thomas & Mack Moot Court Facility #151