Keith C. Miller
Visiting Professor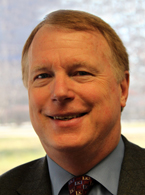 Areas of expertise:
Sports Betting, Fantasy Sports, Gaming Law
Course:
Special Topics: Sports Betting & Fantasy Sports
Bio:
Keith C. Miller is the Ellis and Nelle Levitt Distinguished Professor of Law at Drake University in Des Moines, Iowa. Professor Miller teaches the course on Gaming Law at Drake along with courses in the area of Torts. In addition to numerous law review articles, he is co-author of The Law of Gambling and Regulated Gaming, the leading casebook on gaming law. The 2d edition of the casebook will be published in January of 2016.
Professor Miller is the Vice-President of Educator Affiliates of the International Masters of Gaming Law (IMGL), a global gambling law network and educational organization. He serves as the Vice-Chair of the Gaming Law Committee for the Business Law Section of the American Bar Association. He has spoken on and moderated panels for the IMGL, the ABA Gaming Law Minefield National Institute, and many other groups. Professor Miller has conducted symposia and lectured at law schools in the US and France. Professor Miller also consults on gaming law cases, has been an expert witness in gaming law litigation, and is a frequent resource for media on matters involving gaming law.
Professor Miller received his J.D. from the University of Missouri-Kansas City where he was the Editor-in-Chief of the UMKC Law Review. After practicing law in Kansas City, Missouri, Professor Miller obtained his LL.M. degree from the University of Michigan Law School before beginning his career as an academic lawyer. Professor Miller also served as the NCAA Faculty Representative at Drake University from 1995-2000.