Dean
Richard J. Morgan Professor of Law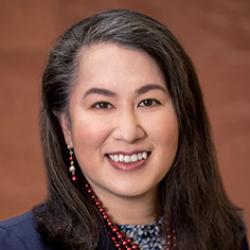 Education:
J.D., New York University Law School
B.A. in East Asian Studies, summa cum laude, The George Washington University
Dean
Richard J. Morgan Professor of Law
Bio:
Dean Grinvald joins the William S. Boyd School of Law at UNLV from Suffolk University Law School in Boston, where she was associate dean for academic affairs and professor of law.
Dean Grinvald is an internationally recognized intellectual property law scholar, whose research focuses on the enforcement of intellectual property law, and the potential negative impacts of related laws on small businesses and entrepreneurs. Her work has appeared in some of the nation's leading law journals. Dean Grinvald's most recent work focuses on the intersection of the "right to repair" and intellectual property law.
Dean Grinvald has previously taught courses in Contracts, Copyright, International Intellectual Property, Negotiation, Trademark Law and Trademark Practice at her prior institutions, Suffolk Law and St. Louis University School of Law.
Before joining academia, Dean Grinvald began her career in the private sector after clerking for The Honorable Frank Sullivan, Jr. (ret) of the Indiana State Supreme Court. She served as the global corporate counsel at TaylorMade Golf Company, and as a corporate associate at two international law firms, Latham & Watkins LLP and at Clifford Chance US LLP in their San Diego offices. Dean Grinvald received her JD from New York University Law School and a bachelor's degree from The George Washington University.
In her spare time, Dean Grinvald enjoys cooking, watching home renovation shows, traveling, and exploring new destinations with her husband and two children.