Areas of Expertise:
Legal Writing and Legal Reading
•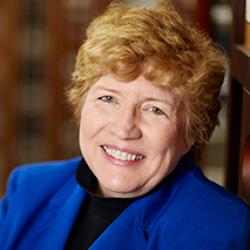 Education:
J.D., University of Notre Dame Law School
B.A., cum laude, Bowling Green State University
Areas of Expertise:
Legal Writing and Legal Reading
•
Bio:
Mary Beth Beazley has taught legal writing for 40 years. She joined Boyd's faculty in 2017, and she also serves as a member of the faculty of the National Judicial College. She has held numerous leadership positions in legal education, including President of the Legal Writing Institute, Chair of the ABA's Communication Skills Committee, and President of the Association of Legal Writing Directors. Her previous academic appointments include faculty positions at Vermont Law School, the University of Toledo, and The Ohio State University College of Law, where she taught legal writing for 29 years.
Professor Beazley is the author of the text A Practical Guide to Appellate Advocacy and co-author, with Dean Monte Smith, of Briefs and Beyond: Persuasive Legal Writing and of Legal Writing for Legal Readers: Predictive Writing for First-Year Students. She also contributed a chapter to the compilation The Law of Harry Potter, and she believes that she wrote the first law review article that quoted Hogwarts student Parvati Patil. Her current scholarship focuses on (1) equality issues in legal education, (2) behavioral aspects of legal writing and legal reading, and (3) the impact that digital platforms have on cognitive aspects of legal reading.