Ruben J. Garcia
Professor of Law
Co-Director, UNLV Workplace Law Program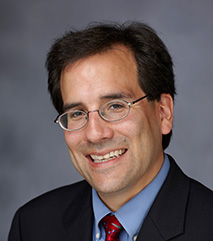 Areas of expertise:
Labor Law, Employment Discrimination Law, Employment, Constitutional Law, Law and Society, Law and Social Change, First Amendment, Immigration Policy, International Human Rights Law, Professional Ethics, Critical Race Theory/LatCrit Theory
Bio:
Ruben J. Garcia is Professor of Law and Co-Director of the Workplace Law Program at the University of Nevada, Las Vegas, William S. Boyd School of Law. From 2017 to 2019 he served as Associate Dean for Faculty Development and Research at the UNLV Boyd School of Law. Prior to joining the UNLV faculty in 2011, he was Professor of Law and Director of the Labor and Employment Law Program at California Western School of Law in San Diego, where he taught for eight years. He also has served as a Visiting Professor at the University of California, Davis School of Law, the University of Wisconsin Law School, Brooklyn Law School, and at the University of California, San Diego. Before beginning his teaching career in 2000, Garcia worked at Rothner, Segall and Greenstone as an attorney for public and private sector labor unions and employees in the Los Angeles area. He is a graduate of Stanford University, received his Juris Doctor from UCLA School of Law, and has a Master of Laws (LL.M.) degree from the University of Wisconsin Law School, where he was a William H. Hastie Fellow. His scholarship has appeared in a number of leading law reviews, including the Hastings Law Journal, the Loyola Law Review, the University of Chicago Legal Forum and the Florida State University Law Review, and peer-reviewed publications such as the Employee Rights and Employment Policy Journal and the Annual Reviews of Law and Social Science. His book Marginal Workers: How Legal Fault Lines Divide Workers and Leave Them Without Protection was published by New York University Press in 2012. He has lectured at Stanford, Harvard, the University of Chicago, Georgetown University, the Brookings Institution, the International Labour Organization Training Center and many other law schools and colleges. From January 2014 to January 2016, he served as the Co-President of the Society of American Law Teachers (SALT), and has served on the Board of Directors of the ACLU of Nevada. He is a member of the Board of Directors of the American Constitution Society (ACS), a national nonprofit organization, and an advisor to the Boyd Law Student and Las Vegas Lawyer Chapters of the ACS.

In October 2022, he was elected as a fellow of the American Law Institute. Like other members of the ALI, Professor Garcia's nomination and election was based on his experience, potential to contribute to future ALI activities, achievement, and his professional standing among peers. Three years earlier, he was elected as a Fellow of the College of Labor and Employment Lawyers based on more than twenty years as a labor lawyer and academic in the field of Labor and Employment Law. He is currently writing a book on race and the minimum wage for the University of California Press. A frequent contributor to media stories on issues of constitutional law, labor law and employment law, he has been interviewed by National Public Radio, the New York Times, and Marketplace, among other news outlets.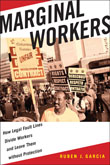 Marginal Workers
How Legal Fault Lines Divide Workers and
Leave Them without Protection
In the News
Faculty Notable
Professor Ruben Garcia will present "The Racial Caste of Prison Labor" at the International Workshop "Between Privatization and Labor Law:
Prison Labor and Its Contemporary Challenges," hosted by Haifa University Law School.
Professor Garcia will present at the Transforming the Legal Academy Conference on Sept. 24, 2021, hosted by the Sandra Day O'Connor College of law on "Nuts and Bolts: AALS, Interviews & Job Talks, for those considering entering the law teaching market. Learn more here: https://bit.ly/3kFquGr
Professor Garcia served on the American Association of the University Professors Committee on College and University Governance, which produced the special report "COVID-19 and Academic Governance."