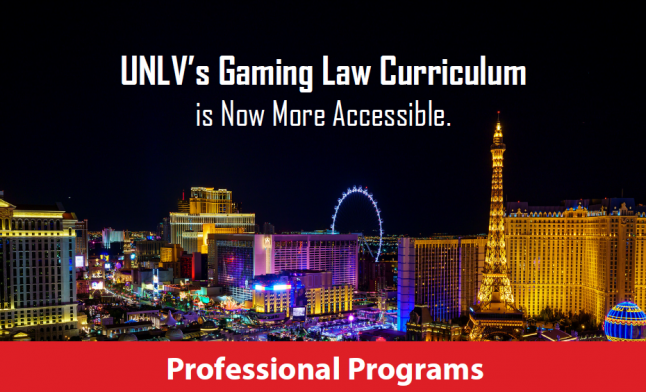 In partnership with GVC Holdings the William S. Boyd School of Law announces new online training programs in gaming law and regulation. This online training program is designed for operators, regulators, lawyers and others working in the gaming industry. These mostly asynchronous programs will launch during the first and second quarters of 2021 and be created and taught by instructors with decades of professional gaming and teaching experience. The program will eventually consist of eight classes designed to prepare professionals to meet the sophisticated regulatory and operating challenges facing the gaming industry. Participants are not required to hold a Juris Doctor (J.D.) degree or first degree of law required to practice law in international markets in order to enroll.
The initial courses to be offered include:
Introduction to Gaming Law and Regulation
Anthony Cabot is the Distinguished Fellow in Gaming Law at the UNLV William S. Boyd School of Law. Before joining UNLV, Cabot practiced gaming law for 37 years and was a former chair of the gaming law practice and executive committee member at Lewis Roca Rothgerber Christie LLP. He is the author of numerous books and articles, most recently "Sports Wagering in America (with Keith Miller)" and "The Law of Gambling and Regulated Gaming (with Keith Miller)."
Introduction to Gaming Operations
Uri Clinton has served as a senior executive and general counsel for gaming and resorts across the United States and in the Bahamas. He was most recently the President and Chief Operating Officer of MGM Empire City Casino in New York. Before that, he served as Senior Vice President and Legal Counsel for MGM, Senior Vice President and General Counsel for Baha Mar in Nassau, The Bahamas, and Senior Vice President and Corporate Counsel for Multimedia Games, a slot machine manufacturing company.
The Legal and Operational Environment for Sports Betting
Keith Miller is the Ellis and Nelle Levitt Distinguished Professor of Law at Drake Law School. He is also a visiting professor at the UNLV William S. Boyd School of Law. Miller is an author of numerous law review articles on gambling and sports betting, and he co-authored "Sports Wagering in America (with Anthony Cabot)" and "The Law of Gambling and Regulated Gaming (with Anthony Cabot)."
Player Accountability and Corporate Social Responsibility in Gaming Law
Alan Feldman is the Distinguished Fellow in Responsible Gaming at the International Gaming Institute (IGI) at UNLV. Before joining UNLV, Feldman spent 29 years as a senior executive with MGM Resorts International. Feldman has developed relationships with academics, clinicians, public health officials, and problem gambling patients and is a frequent speaker on responsible gaming at conferences, universities, and media events around the world. He also serves as chair of both the National Center for Responsible Gaming and the Nevada Advisory Committee on Problem Gambling.

Dayvid Figler is an attorney and national expert on the intersection of criminal justice and gaming. He has consulted with multiple gaming jurisdictions on legal matters and programming related to responsible gaming and problem gambling. Figler serves as an advocate for the National Council on Problem Gambling and has helped establish programming to serve problem gamblers, including Problem Gambling Treatment Diversion Court in Las Vegas.
Public Policy and Comparative Study of Gaming Laws and Regulations
Simon Planzer, PhD, has been directing the legal practice 'PLANZER LAW AG' and conducting academic work on gaming & entertainment, technology and compliance-related matters for approx. 15 years. He has served as Lecturer in Law at the University of St.Gallen (Switzerland), expert witness in parliament and advisor to regulatory authorities, focusing on empirical-based regulation and best practices. Dr Planzer wrote his PhD at the intersection of law and empirical sciences (addiction) and did studies/research i.a. at Harvard Law School, Harvard Medical School/Division on Addiction, the College of Europe and the European University Institute.