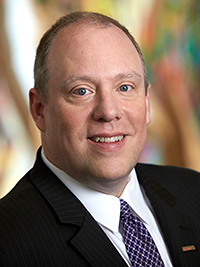 Next week, as part of the Dean's Distinguished Lecture Series, the law school welcomes Judge Ken Starr who will present a talk on "Investigating the President" at 4 p.m. on March 22 in the Thomas & Mack Moot Courtroom. Judge Starr has had a distinguished career in academia, the law and public service. Judge Starr was named to the U.S. Court of Appeals for the District of Columbia Circuit from 1983 to 1989. He was named Solicitor General by President George H. W. Bush, and argued 36 cases before the U.S. Supreme Court from 1989-93. He went on to serve as Independent Counsel for the Department of Justice. Judge Starr is currently practicing law, writing on constitutional law, and serving as a guest commentator for various news programs. My thanks to MGM Resorts International and William Hill for their support of this important talk and series.
We also have lots of great news and exciting developments from around Boyd Nation to share.
I am delighted to announce that former Lewis Roca Rothgerber Christie gaming law partner Tony Cabot will serve as the law school's first Distinguished Fellow in Gaming Law. Tony has practiced gaming law for more than 35 years, is a longtime adjunct at the law school, and is widely regarded as one of the most distinguished gaming attorneys in the U.S. As a Fellow, he will teach and advise students in the gaming law program, advance scholarly research as a contributor to the Gaming Law Journal and build relationships with other jurisdictions. Read the official press announcement here, and learn more about Tony in the faculty spotlight below.
The College of Southern Nevada (CSN) is honoring Professor Michael Kagan, Director of the Immigration Clinic, with the "Diversity Excellence Award for 2017-18," which is presented to a community partner, during a ceremony at their Diversity Awards and Recognition Breakfast on Friday, March 16 at the North Las Vegas Campus. In recognizing the Immigration Clinic, they write: "We are particularly thankful to you for all the work you have put forth to serve our students and the members of our immigrant communities." We are grateful to Professor Kagan, Laura Barrera, Mayra Salinas-Menjivar, Martha Arellano and all Boyd students who have volunteered at CSN programs.
Finally, congratulations to the Society of Advocates moot court teams for the many outstanding achievements at recent competitions. Stephanie Glantz, Landon Littlefield, Alexis Wendl, Scott Cardenas and Steven Kish advanced to the final 16 at the Duberstein Bankruptcy Moot Court Competition, one of the largest competitions in the country, at St. John's University. Scott and Steven received the "Outstanding Brief" award. At the Wagner Labor and Employment Moot Court Competition at the New York Law School, Will Carter, William Nobriga, and Connor Saphire also advanced to the final 16. Their team won the "Best Preliminary Round Team" award. Connor Saphire also won the "Best Respondent Preliminary Round Advocate" award.
Best,
Dan
Dean & Richard J. Morgan Professor of Law
daniel.hamilton@unlv.edu
facebook.com/DeanDanHamilton