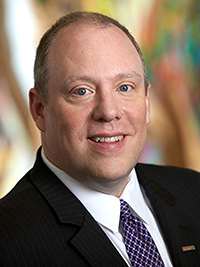 On April 5 at 4 p.m. in the Thomas & Mack Courtroom, the law school will host our annual Robert D. Faiss Lecture on Gaming Law & Policy. This year's speaker is Dr. Bo Bernhard, Executive Director of the International Gaming Institute. He will deliver a talk: On the Shoulders of Giants: Reflections on the Foundations and Futures of the Study of Gambling. Dr. Bernhard will also be honored as the new Philip G. Satire Chair for Gaming Studies, which is widely recognized as the most prestigious chair in gaming studies. The Satire Chair is held jointly at the University of Nevada, Reno and the University of Nevada, Las Vegas. You can RSVP by clicking here.
Over the past few weeks, we've also seen a lot of exciting developments from our students, faculty and alumni. I am delighted to share those with you:
Last week at the Rocky Mountain Legal Writing Conference, Professor Rebecca Scharf was presented with the 2018 Rocky Mountain Award for "contributions beyond measure to the Rocky Mountain Legal Writing Community." More well-deserved recognition for the #1 Legal Writing program in the nation!
Congratulations to the Society of Advocates Thurgood Marshall and the Rendigs Moot Court teams. Lucy Crow and Carmen Gilbert advanced to the quarterfinal round at the August Rendigs Products Liability Moot Court Competition, held at the Potter Stewart Courthouse in Cincinnati, Ohio. Theresa Guerra and Brianna Stutz won the first place brief award at the Federal Bar Association's Thurgood Marshall Memorial Moot Court Competition, held in Washington, D.C. Kris Kalkowski and Andrew Hart took home the second place brief award at the same competition.
Three UNLV Law grads were honored in this year's VEGAS INC 2018 40 Under 40 list of influential Las Vegans who are helping improve Southern Nevada. Congrats to Justin Carley ('06), Partner at Snell & Wilmer, Riana Durrett ('08), Executive Director at the Nevada Dispensary Association, and Xenophon Peters ('07), Peters & Associates Founding Partner. Wonderful recognition for alumni making an impact in our community.
Best,
Dan
Dean & Richard J. Morgan Professor of Law
daniel.hamilton@unlv.edu
facebook.com/DeanDanHamilton