Monday, November 29, 2021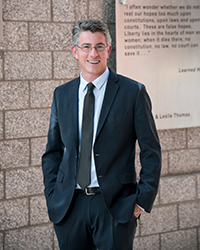 By Elizabeth Rusiecki
With a large undocumented immigrant population and scarce free legal defense available for those facing deportation, Las Vegas has been called a "deportation defense desert."
The Nevada Legislature took a big step this year to help the city shed that nickname with the passage of Assembly Bill 376. The legislation—which was initially drafted by student Jorge "Coco" Padilla as part of a lawmaking competition—earmarks $500,000 over two years for the UNLV William S. Boyd School of Law's Immigration Clinic in the Thomas & Mack Legal Clinic. Clark County followed up with its own allocation for a similar amount. It's the first time that the clinic has received public funding on this scale.
The public funds—combined with a previous generous donation from local law firm Edward M. Bernstein and Associates—will be used to elevate deportation defense efforts.
"For the past five years, the Immigration Clinic's work defending unaccompanied children has been possible because of a $250,000 commitment from Mr. Bernstein's firm," says Michael Kagan, director of the Immigration Clinic. "The new funding from the state and the county builds on the foundation that gift made possible.
"We're not going to solve the full problem, but this funding is a huge turning point."
The clinic provides free consultations and legal services to UNLV and College of Southern Nevada students, staff, and their families. Now, thanks to the new funding, the clinic will be able to open its first off-campus location, to be called the Community Advocacy Office. Attorneys and paralegals at the site will work directly on deportation defense for detained adults and unaccompanied children.
Expanding community access also opens up the potential for paid internships, part-time jobs, and externships outside of UNLV Boyd Law's existing Immigration Clinic course. It also lays out a potential career track for law students passionate about focusing their careers on immigrant defense.
"That's something I want to see happen in our law school and our community in the same way we see our undergraduates rising in the ranks of the state district attorney's office or the public defender's office," Kagan says. "I hope that 10, 20 years from now we look back on this and see it as the beginning of something even larger and something enduring, a resource that people come to count on in our community."
Nevada has one of the highest per capita populations of undocumented immigrants in the U.S. (about 7 percent)—a number that becomes more startling when considering the Silver State is the nation's fifth-fastest-growing state. With the passage of AB 376, Nevada became the seventh to provide state funding for immigration defense, but Kagan notes that it's the first swing state to do so, an important marker of progress.
"The immigrant community has been under attack, and that's a crisis we felt for our neighbors here after 2016," he says. "And I know it's something many of our own students felt, often personally."
With Clark County being Nevada's most diverse county—and at more than 2 million, also the most populous—the Immigration Clinic finds itself in an unusual position. Many big cities have nonprofit organizations dedicated to immigrant defense; law school clinics in those jurisdictions play a more supplemental role.
There is no dedicated, pro bono deportation defense center in or around Las Vegas, although attorneys and legal aid organizations take on individual cases. So while the Legal Aid Center of Southern Nevada has expanded its immigration law offerings, one organization in a community of 2.2 million can't do all the work.
"One of the reasons this expansion is happening at the clinic is [because] as things developed in Southern Nevada, we were really the only institution acutely focused on the deportation defense role," Kagan says.
About those population stats: They're more than numbers. They're names and faces of the UNLV community. They are the undocumented students at UNLV Boyd Law, as well as the undocumented or previously undocumented parents of those students and staff, and countless others across the entire university system. So it's personal.
"When we go out and try to defend someone else's family from being broken apart by the immigration system, we're really defending our own," Kagan says.
Fond of the phrase "serving the community from which we come," Kagan uses it often. That's why he lauds the passion of law students who bring a fresh eye to immigrant defense. These aspiring attorneys aren't restricted by traditional norms, and they don't hold back for fear of appearing aggressive. They serve the community from which they come, and they do it for free—but, as Kagan is quick to point out, with the highest level of defense.
"The student attorneys in our clinic are typically more devoted to their clients than I could ever afford to pay an attorney to be," Kagan says.