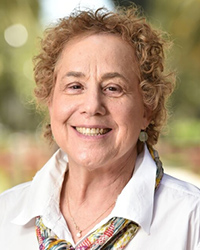 Last spring, the Saltman Center for Conflict Resolution welcomed Stanford Law School Professor Deborah Hensler for the inaugural Chris Beecroft Jr. Lecture on Conflict Resolution at the Thomas & Mack Moot Court Facility. Hensler's talk drew on examples from both international and domestic arbitration to consider which disputes are best handled in more private, informal arbitral settings and which are best conducted through more public, formal litigation.
The fascinating lecture led to an article (which Hensler co-authored with Stanford colleague Damira Khatam) titled Re-Inventing Arbitration: How the Scope of Arbitration is Re-Shaping Its Form and Blurring the Line between Private and Public Adjudication. That article sparked spirited reactions from a host of professors who are experts in arbitration and who authored response articles: Hiro N. Aragaki (Loyola Law School, Los Angeles); Benjamin P. Edwards (UNLV Law); Thomas O. Main (UNLV Law); David L. Noll (Rutgers School of Law); Guillermo J. Garcia Sanchez (Texas A&M University School of Law); Jean Sternlight (UNLV Law); Imre S. Szalai (Loyola University New Orleans College of Law); and Teresa J. Verges (University of Miami School of Law). These professors' articles will appear in Volume 18, Issue 2 of the Nevada Law Journal, expected to be published in February.
The Beecroft Lecture Series was established in honor of the late Chris Beecroft Jr., a 1971 UNLV graduate and onetime commissioner of Alternative Dispute Resolution for Clark County District Court. Following Beecroft's passing in December 2016, the ADR section of the Nevada State Bar worked quickly launch the Chris Beecroft Jr. Fund, which sponsors the lecture series for the Saltman Center.