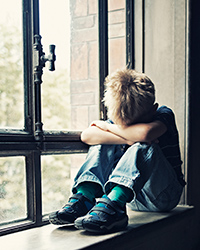 When child wellbeing and the future of a family become the subject of courtroom litigation, it's heartbreaking—for everyone involved. It's why the William S. Boyd School of Law's Mediation Clinic is involved on the ground floor of a new statewide initiative that steers families away from the courtroom and toward the mediation table.
Nevada's Juvenile Dependency Mediation Program, which was successfully launched in Washoe County in 2011 and subsequently rolled out in other counties throughout the state, offers the opportunity for families, adoptive resources, social workers, and lawyers to resolve child welfare cases through constructive negotiations in a neutral setting rather than contentious litigation in Family Court. With the inclusion of Southern Nevada—where there are more than 3,000 children in the foster system at a given time—the Juvenile Dependency Mediation Program has now spread to all 11 of the state's judicial districts.
While the program's primary objective is to lessen the dehumanizing sting of adversarial conduct as well as the unhelpful delay often associated with child-welfare cases, there's a secondary benefit as it pertains to UNLV Law students in the Mediation Clinic: Under the guidance of Clinic faculty, students have the opportunity to participate in a highly specialized form of mediation and witness its transformative powers.
Child welfare law is notoriously complex and highly intrusive, and once the gears of a court case begin to move, the voices of parents and children can get lost. Mediation forces the parties involved in such cases to shift their emphasis—instead of proving parental fault, the mediation discussion focuses on what can be done to ensure the children thrive, and how, whenever possible, families can remain together.
"Integrating juvenile dependency mediation into the work of the Mediation Clinic advances an important part of the Saltman Center's mission," says Lydia Nussbaum, a UNLV associate professor who also serves as the associate director of the Saltman Center and director of the Mediation Clinic. "The Saltman Center strives to educate the next generation of lawyers about effective uses of alternative dispute resolution in our legal system, as well as how to adapt modes of advocacy in different settings."